TomTom Spark 3
The TomTom Spark 3 is a GPS Sports watch, a heart rate monitor, an activity track and a music player all combined in one device.
It supports activities like, running, cycling, swimming, indoor running (treadmill), gym, indoor cycling, freestyle and has an inbuilt stopwatch. It measures your heart rate for all these activities, besides swim. The heart rate track is really good, but if you need very accurate data, you want to use an external sensor.
You can track all your activities 24/7. Steps, calories, distance travelled, active minutes, sleep minutes and your heart rate.
One huge benefit of the clock is that it has a native storage for your music. It saves up to 3 GB of music and streams through Bluetooth headphones. That said if you want to go running or any other activity you don't need to bring your phone or any other music stream device with you. That gives you a lot of flexibility and freedom while enjoying your favourite music and activity.
With the GPS Track you will be able to head off for a long run and not care about getting lost, or create and upload a new path entirely. This will appeal to any runner guilty of plodding the same route day-after-day. This function can also be very helpful on a weekend trip in a new city. Just setup your "home base" and get lost. Your Spark will guide you home.
Design
The arm strap with a three point fastening system is extremely comfortable. The watch feels pretty light and after a few hours you completely forgot that you are wearing one. The navigation is easy and you quickly get used to the 4 navigation buttons. Even during night and in the dark it is pretty easy to navigate through the menu. The overall design feels simple, nothing distracts you from your daily sports routine.  The lack of a touch screen is understandable, when I am running it is hard to use my phone with my sweaty hands.
The only problem with the design is, that every time you want to recharge the battery you will have to take of the Spark 3. This will happen more or less every 4 days or even more, if you are running in the dark. I am using the TomTom Spark 3 Headphones with my watch and I find it quite annoying that I need to use a different charging cable to recharge my headphone.
Battery
As mentioned before this is one of the biggest problems with the current version of the watch. In normal mode the battery will have power for 4 days. During night you have to turn on the backlight – otherwise you will see nothing at all. But this will eat your battery and you have to recharge after each activity.  In running mode your battery barely can handle a full marathon, so you have to be fast. Maybe this is a motivation to run a marathon under 4 hours.
Of course you can switch of the heart rate tracker and music, this will extend the battery life. But this can't be the solution.
Getting started
First you have to install your TomTom MySports (available on PC and MAC), where all data will be stored. Here you have to setup an account with your personal data and your fitness goals. This can be steps, active minutes, distance or calories burned or number of activities during one week.
Updates for your watch will be installed as well through the MySports App. If you want to upload new music to your watch, you'll first have to create a playlist, which is a bit of a struggle and this will stop you from uploading new music constantly. I tried the Bluetooth connection a few times, sometimes it works and sometimes it doesn't.
Furthermore I have the feeling, that if I am not connecting the watch with MySports at least once a week, the GPS signal finding, can take up to a few minutes, which can be really annoying – especially during winter.
Activity tracking
I don't think a lot of people will buy the watch primary as an active tracker. I just used it for 2 days. But sometimes it is nice to look at your recent exercises or check your training process. It is a nice feature, but I don't like to be tracked all day long.
Sport tracking
Just push the bottom to the right and select your type of workout. It will take a few minutes until a GPS signal is found. If you are connected to the MySports App once a week the QuickGPS is active and the whole process will just take a few seconds. If you are logged onto a satellite, the Spark 3 will tell you to "Get Going" after one more click to the right, you are already on the way.
The screen is divided into 3 data fields. Each can provide the information you like to have during your workout. You have the choice of time, average pace, duration, distance, lap pace and calories burned on the largest section in the middle of the screen. The other two data fields can be customized as well. There are different kinds of information you can choose from depending of the type of activity.
Treadmill: Tracks heart rate, speed, pace, distance, calories burned, and duration
Running: Tracks heart rate, speed, pace, distance, calories burnt, duration, breadcrumb trail, and preloaded trails
Indoor Cycling: Tracks heart rate, calories burned, and duration (cadence, speed, pace, and distance – through an optional cadence sensor)
Cycling: Tracks heart rate, speed, pace, distance, calories burnt, duration, breadcrumb trail, and preloaded trails (Cadence – through an optional cadence sensor)
Swimming: Tracks laps, distance, speed, duration, calories burned, and strokes
Freestyle: Tracks speed, pace, distance, duration, breadcrumb trail, and preloaded trails (Heart rate and calories burnt – through an optional heart rate monitor)
Gym: Tracks duration, heart rate, and calories burned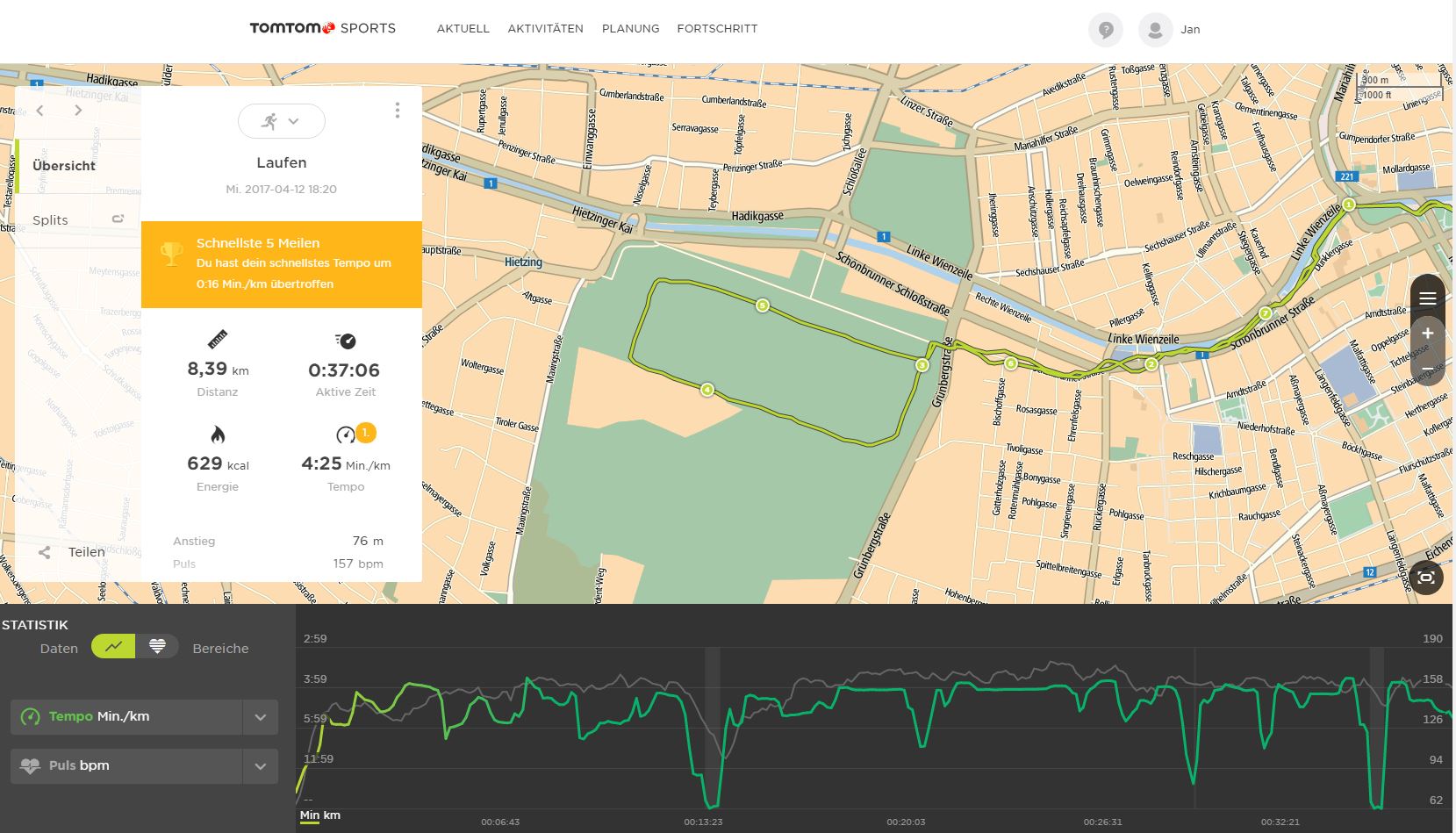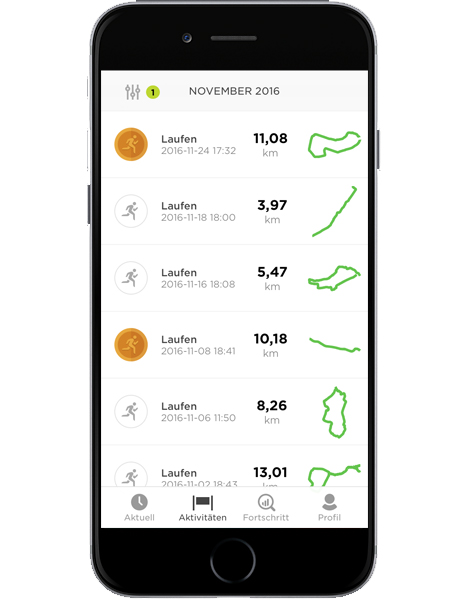 Navigation
The navigation feels pretty easy but the menu is a bit confusing, you never find what you are looking for , it feels like a maze. After a few days of using the watch, it will get easier but it is far away from a self-explanatory menu. I customized my watch with all the information I want to see during my exercise and I am not changing it at all.
MySports App
The MySports Connect is starting as soon as you connect your watch with your MAC, PC or Smartphone.
The overall design of the app is really nice. Without a guide or a lot of time spend in the application, I found most of the relevant data immediately. Everything is displayed in a nice way. All I want from an App like this.
It is also possible to send your GPX routes to a friend and it's simple to download unknown and new tracks online.
Conclusion
There are just a few points which I don't like about the TomTom. First the battery life. Of course the watch is collecting a lot of information constantly. But recharging every two days is a bit too much for me. (I miss the days with my Nokia phone, where you had to worry about the battery every two weeks or even less.)
The menu on the watch isn't thought-out and it is hard to find the information you would like to see. But on the plus side, if everything is set up you don't have to go through the menu anymore.
In general the TomTom Spark 3 does what I want and it is helping me improve my running performance a lot. It shows all important information, when I need it and where I need it.
The biggest benefit is that I don't have to run around with a mobile phone or an mp3 player anymore. This makes you feel free and concentrate on your exercise.
I like wearing my TomTom a lot. Checking how fast I am going, or just how many kilometres I have to still run until I reach my weekly goal. It feels great and I don't want to miss it. It is a great watch for all outside fans, especially runners and cyclists.