*Disclosure: This post may contain affiliate links, which means we may receive a commission if you click a link and purchase something that we have recommended. While clicking these links won't cost you any extra money, they will help us keep this site up and running! Check out our affiliate disclosure. for more information.
One of the many things we love about trekking is a rewarding dinner after hours on a demanding trek. We can look forward to it for hours. Food is where the relaxing part on any trail begins and it builds a fun base for a homey atmosphere to conclude an eventful day full of impressions.
We are always looking for ways to improve and switch up our food game.
A set that caught our eye for a while, before it finally became a loyal companion on many of our trips, is the Trangia cooking equipment.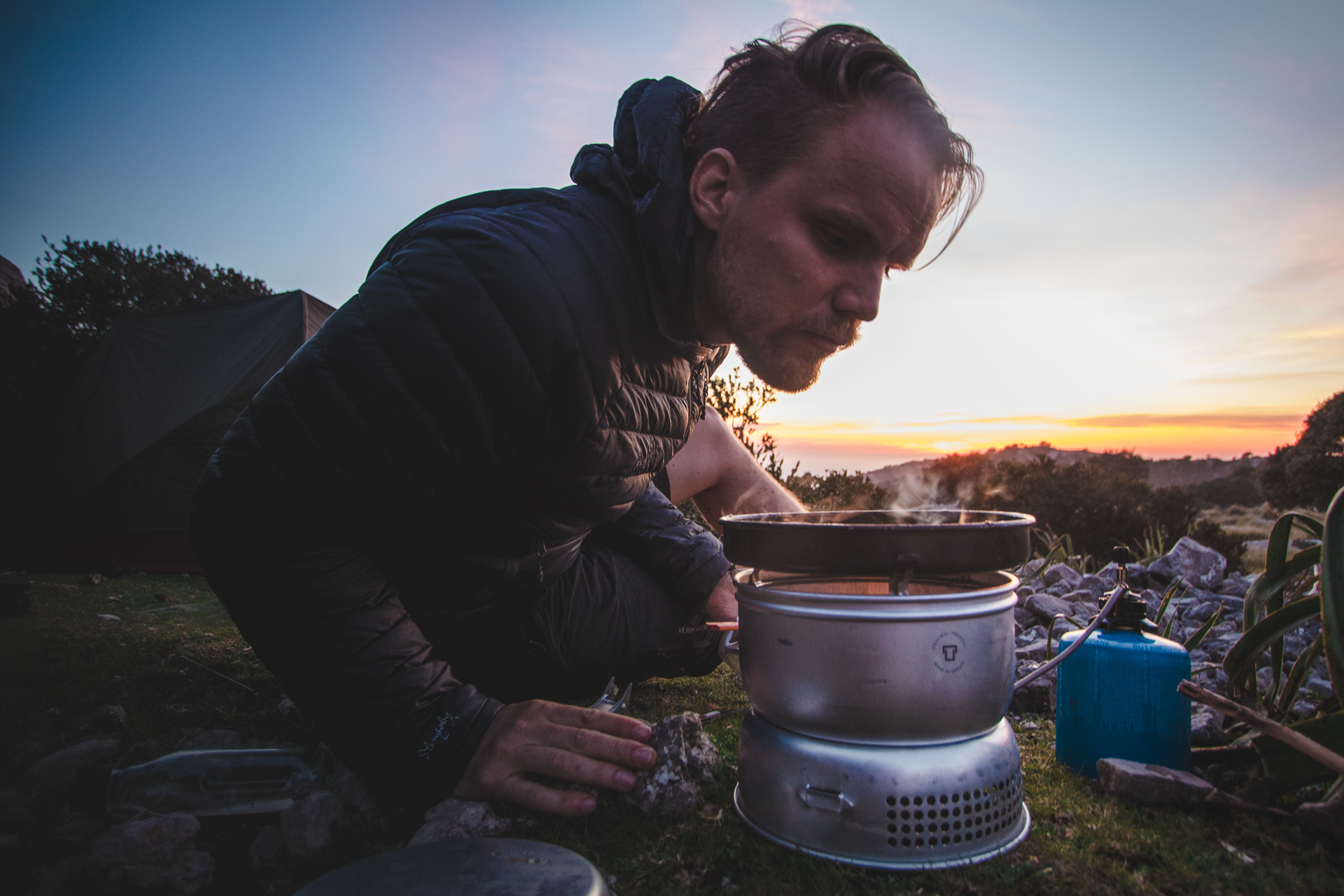 The Trangia 25-4 UL (Ultralight Aluminium) Cooking Set
The Swedish company Trangia is producing storm-resistant reliable cooking equipment since 1925. Since the '50s the Trangia Cooking Sets are part of their product line, with fuel or gas stoves. Since then, the basic design of Trangia has barely changed.
These camping stoves are some of the most reliable and robust camping stoves available on the market.
For our latest camping adventures, we took the Trangia 24-5 UL (Ultralight Aluminium) set with us.
This self-contained system includes the cookware, a heat source and a windshield, which can be packed super compact, efficient and secured into your backpack. There is a large number of accessories, like an alternative gas (propane, butane) burner, a kettle or cups. (We brought additional plates and drinking cups.)
It is not the lightest camping set on the market (1078g). If you are planning a thru-hike or a longer hike where every gram counts, this might not be the ideal companion. But if you love to celebrate food, sitting around a miniature camp kitchen, while enjoying a proper meal after a long and strenuous hike this might be exactly what you are looking for.
Trangia Serie 25 Ultralight: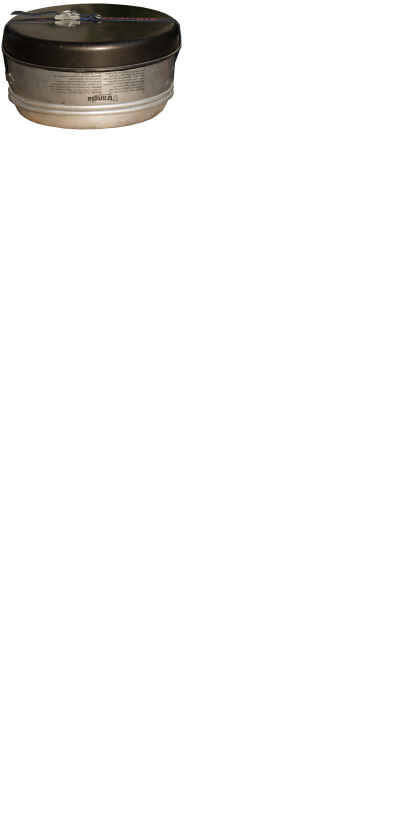 The best thing about the Trangia Set is the fact that it is designed to be stored on a single unit like a Russian nesting doll. Everything packs inside the windshield using the frypan as a lid. This ensures a rattle free walking and minimal used space in your backpack.
Serie 25 Ultralight:
Windshield upper | ultralight aluminium | 200g | 200Ø mm | 95mm (height)
Windshield lower | ultralight aluminium | 120g | 207Ø mm | 74mm (height)
Frypan | non-stick | 165g | 220Ø mm | 33mm (height)
Saucepan | 1.5 litre | ultralight aluminium | 110g | 170Ø mm | 75mm (height)
Saucepan | 1.7 litre | ultralight aluminium | 115g | 181Ø mm | 77mm (height)
Kettle | 0.9 litre | ultralight aluminium | 190g | 151Ø mm | 84mm (height)
Spirit burner | with screw cap | 110g
Pan grip | 48g
Strap | 610 mm | 20g
total weight 1078g
Additional/alternative weight:

Plate | 110g | 200Ø mm
Gas burner | 180g
You can compare Trangia with a Lego set. It gives you a lot of joy and you can always add stuff to make it even better and more diverse.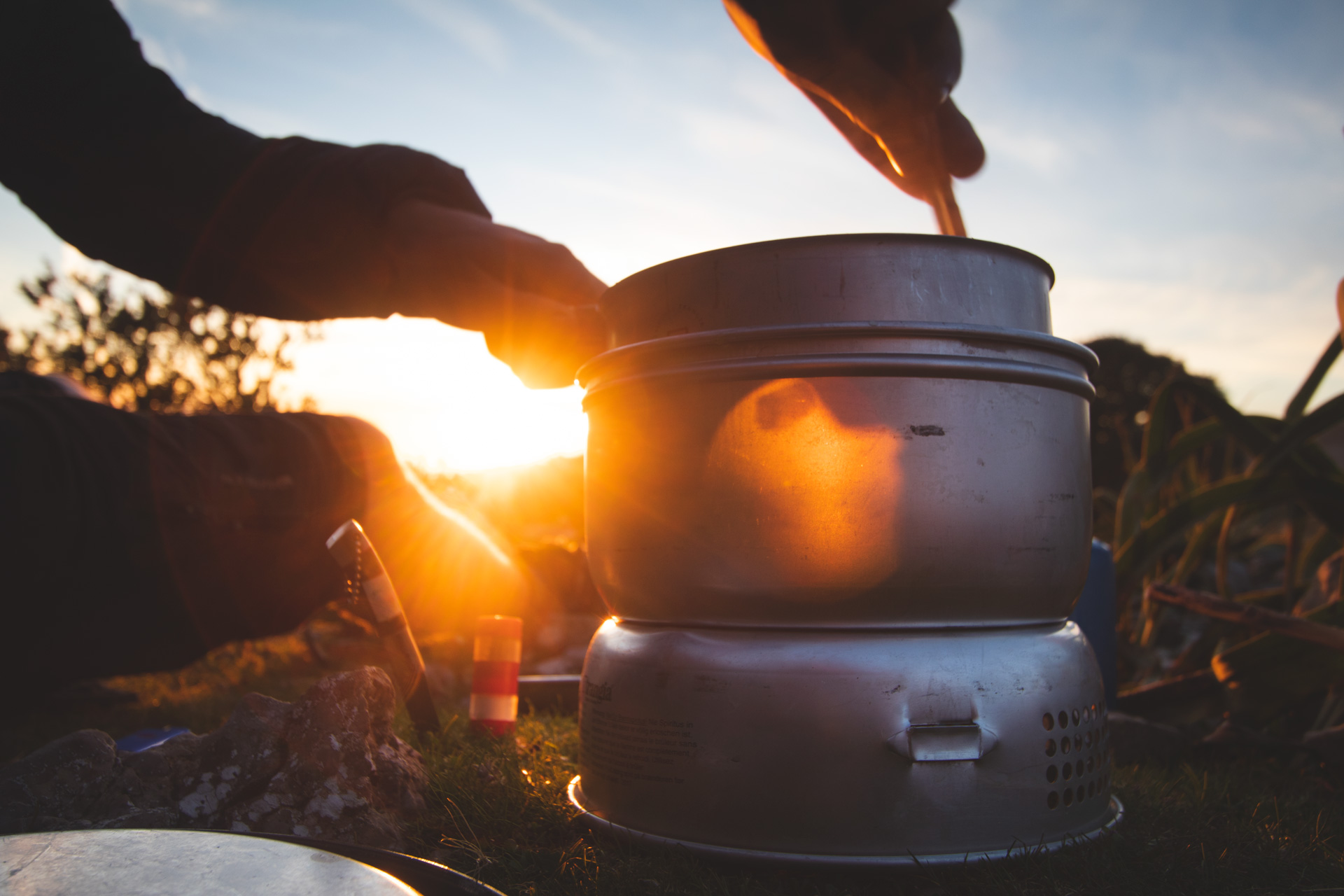 The holes in the button windshield are air (oxygen) intakes. The air is then forced up and around the burner to enable a constant and controlled heat.
The heated air is then channeled through the gaps between the upper windscreen and the pot or kettle. This system increases heat transfer and therefore uses less energy and fuel to heat up your meal even in high winds or low temperatures.
The windshield provides an excellent wind and weather protection but also adds some weight to your backpack.
The Trangia Camping Stove Sets
The Trangia 25
(3-4 Persons) 1075g
Pot 1.5l 
Pot 1.75l 
Frypan (Ø22cm)
Kettle
Spirit burner
Windshield
The Trangia 27
(1-2 Persons) 825g

Pot 1l (graded)
Pot 1l (ungraded)
Frypan (Ø18cm)
Kettle
Spirit burner
Windshield
Mini Trangia
(1 Person) 330g
Pot 0.8l 
Frypan (Ø15cm)
Spirit burner
Windshield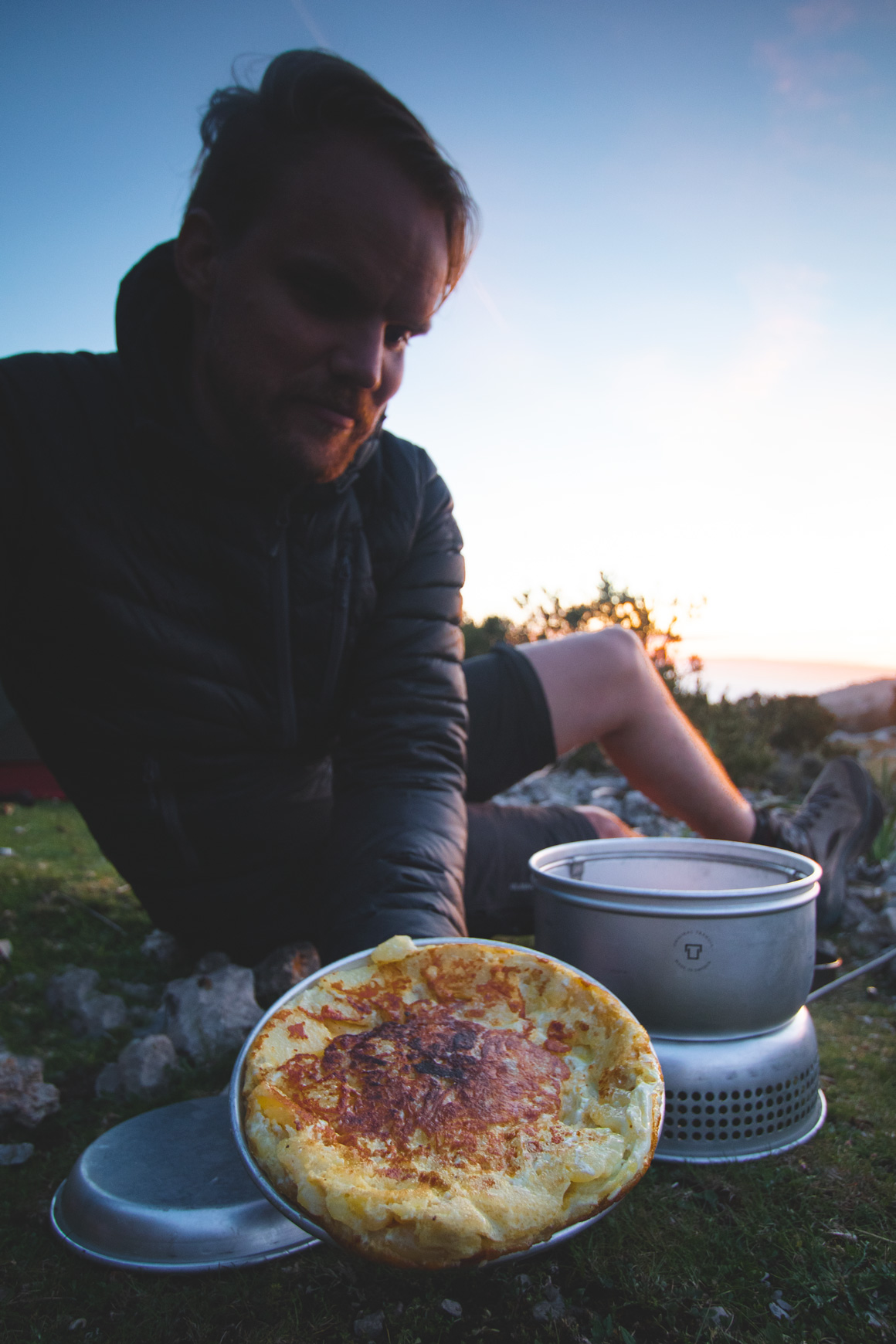 We usually use the gas stove, but when it comes to longer treks where we rely on a heat source and an indestructible cooking gear is mandatory, we take the fuel burner with us. (no moving/ strewing parts)
Don't forget that the fuel burner becomes heavier in comparison to the gas burner because you have to carry fuel (and extra fuel).
Conclusion
After more than 50 years, the Trangia sets still provide amazing camping stoves. Every single element of the set fits well together – nothing rattles in your backpack. The entire set can be easily and quickly assembled without any tools. And if you want to save some weight you can just leave a pot and the kettle at home.
The set is not ideal for ultralight trekkers with titanium gas stove/pots.
Apart from that, the Trangia 25 Ul is a real alternative for trekkers, cyclists, and campers who are looking for a straightforward designed and extremely reliable cooking set – light and economical with the possibility to add more pieces and enhance the cooking experience.
Pros of the Trangia Set
Inexpensive
Stores unused fuel
Solid construction and durable
Lightweight
Wind-protected
Compact
All-in-one
Eco-friendly if you use the fuel Cooker (no empty gas cartridges)
Cons of the Trangia Set



Additional windscreen required (extra weight)
Can't see the flame in daylight
(Cups are getting too hot. Note: The cups are not included in the set.)
What is your favorite outdoor cooking set?