Everest Base Camp Trek Day 10
Gorak Shep – Pangboche
Hiking 17.9 km  Ascent: 242 m Descent: 1436 m Max Elevation: 155 m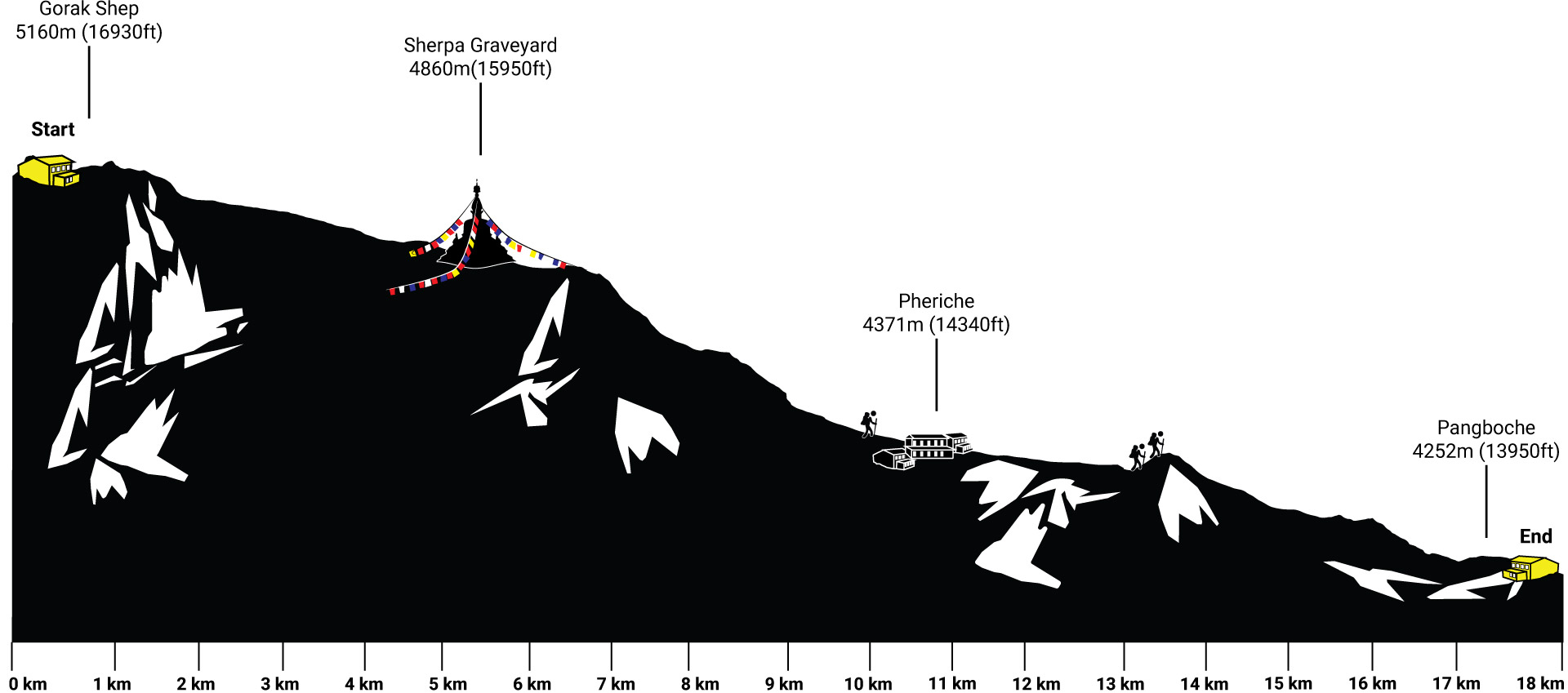 Starting early in Gorak Shep
It was again terribly cold, but we wanted to start as early as possible, to get as far down as we could. We heard horror stories about the poor sleep people get in Gorak Shep, but we actually slept really well. Maybe our body already knew, that we were on our way down.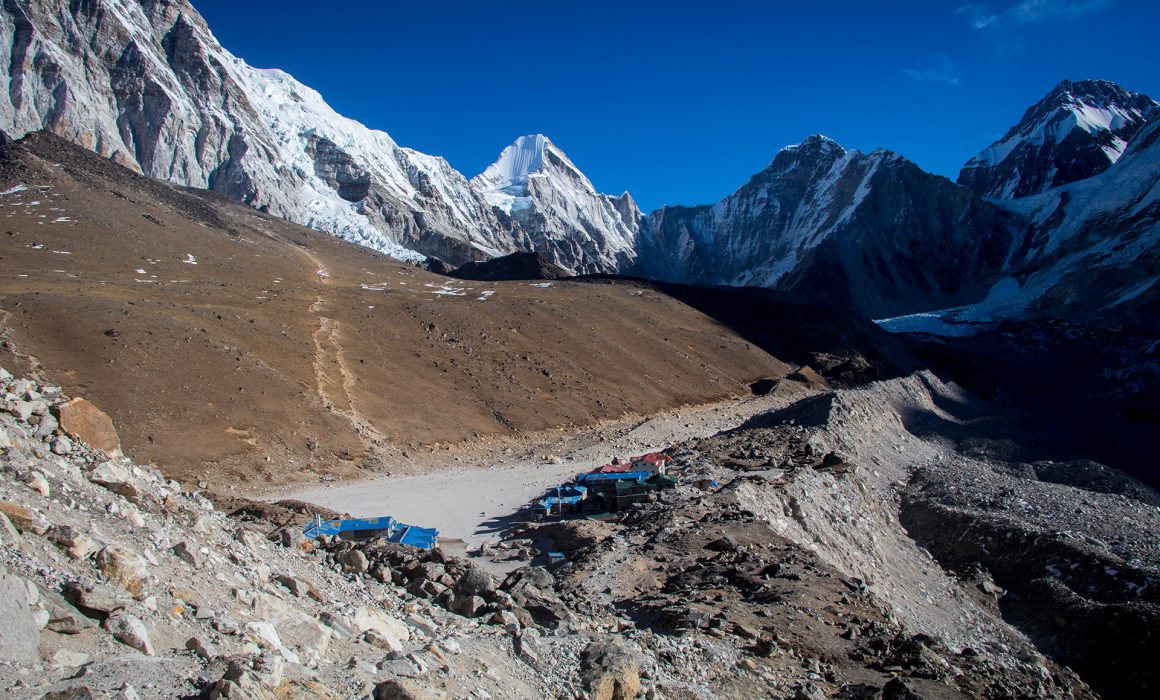 After a huge breakfast, we started to descent. First, we had to climb over the Khumbu Glacier once again. This time it was even worse, we could not find the hardly visible path and decided to follow two porters, who were – as usual – way faster and had a way better grip than we did. The »shortcut« turned out to be really steep and challenging, and it took us even longer than the day before.
Nevertheless, it was a great feeling to be hiking down. Two hours later we were on the easy part of the trek, towards Lobuche. What a spirit, we were flying, the kilometers were just passing by like crazy.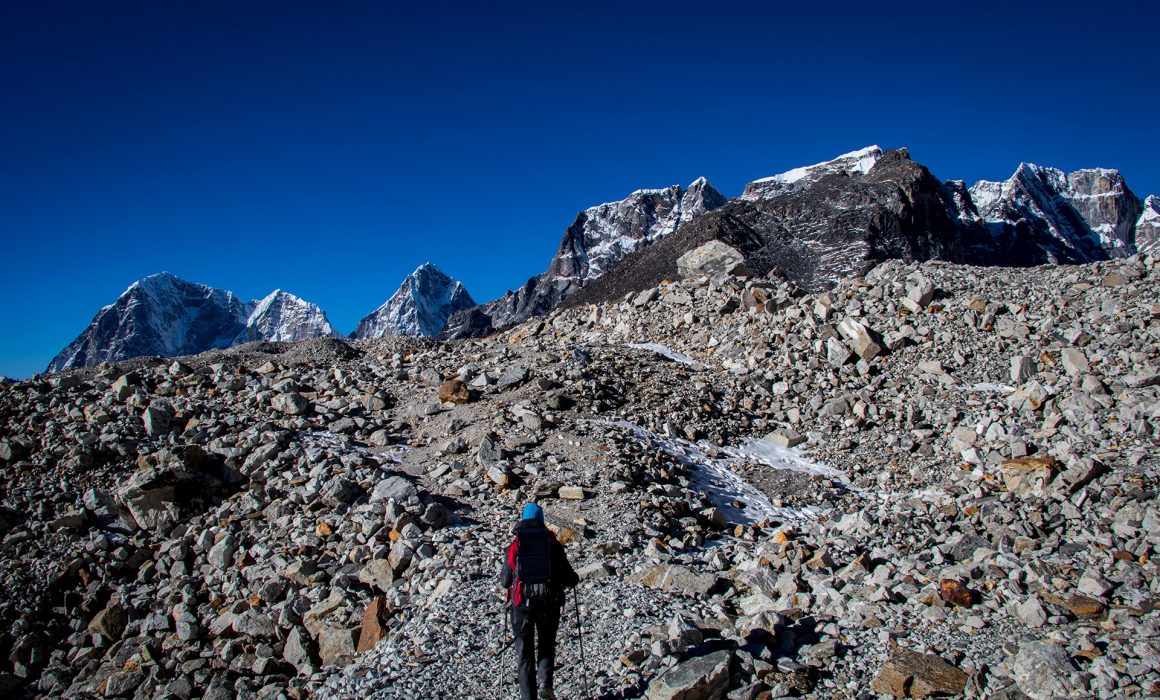 We were just 300 meters lower than the day before, but our lungs were happily filled with oxygen again. We could feel the difference. In Lobuche we made a small pit stop, at the lodge we were staying the night before last, refilling our energy. We knew it was still a long way to go.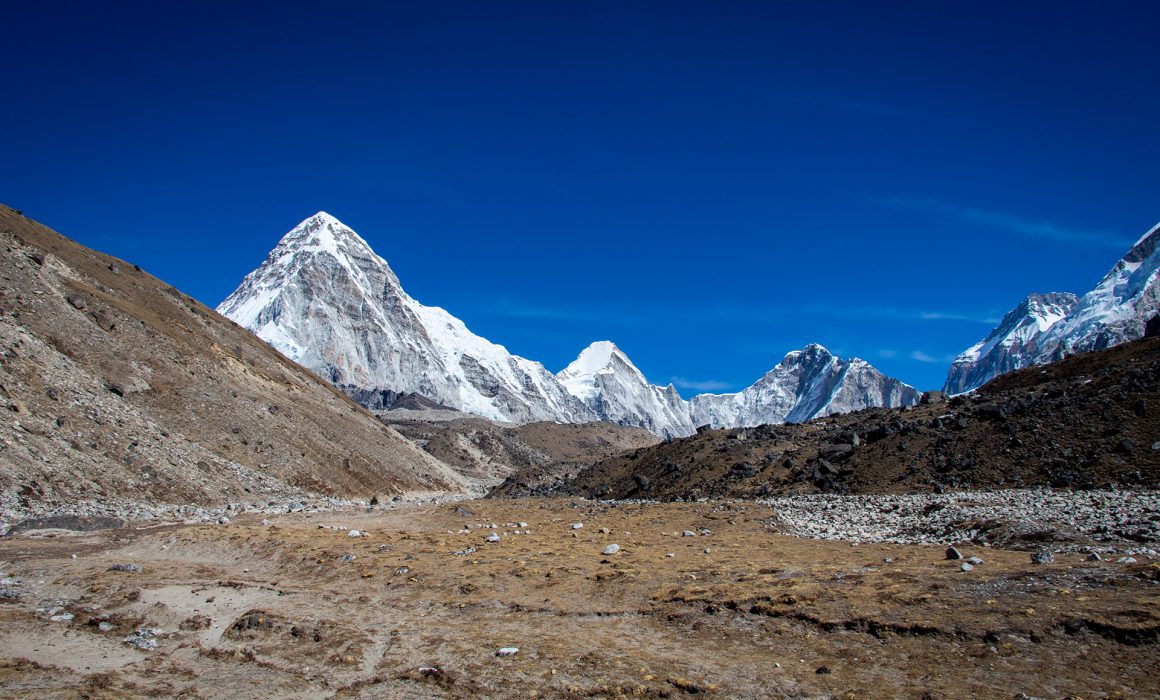 After a bowl of fried noodles, some hot tea, and a pancake we continued hiking. At our left side was the Khumbu Glacier and to the right the frozen peak of Lobuche (6.119 m). On the way down, it was so much easier to enjoy the beautiful landscape.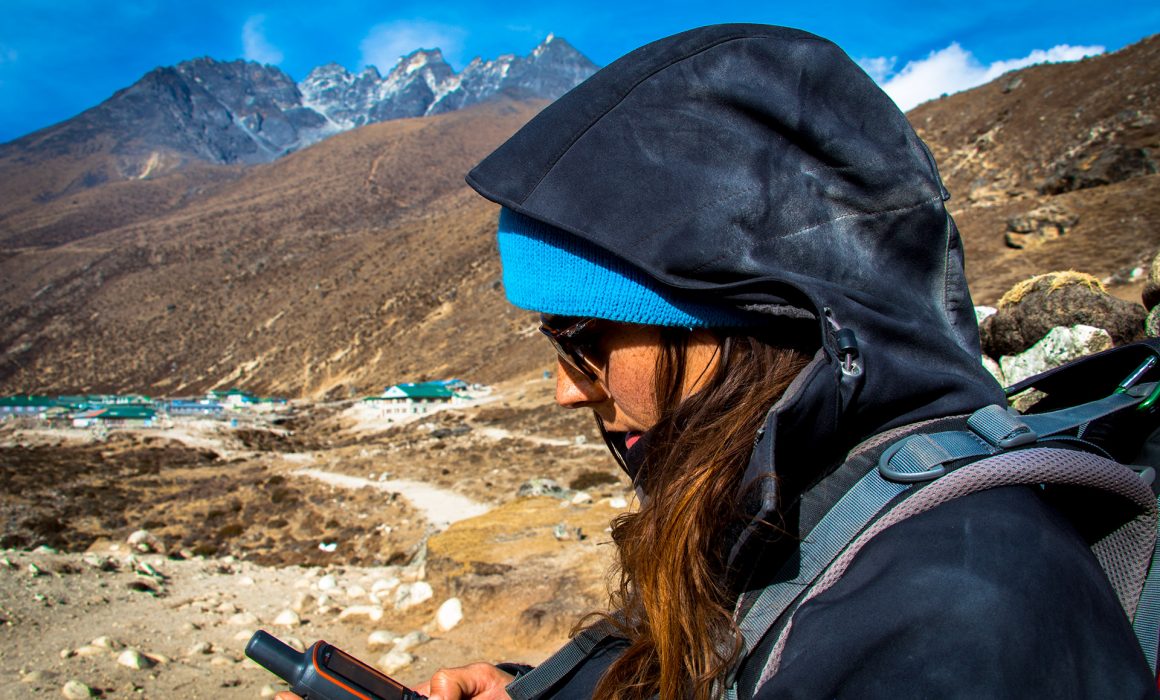 Descenting Thokla Pass
The descent after the Thokla Pass wasn't easy. For the first time in days, I could feel my broken shoulder. The vibrations from the shaking backpack were sadly showing results. I had to change the weight distribution a little: again all the weight to the left side.
We crossed the small bridge close to Dughla and walked down to Pheriche. If you turn to the left, you would reach Dingboche again.
In front of us, towards Taboche was a gigantic black stone wall, with icy peaks on the top. After reaching the valley, the path, and it was more or less a straight walk towards Pheriche.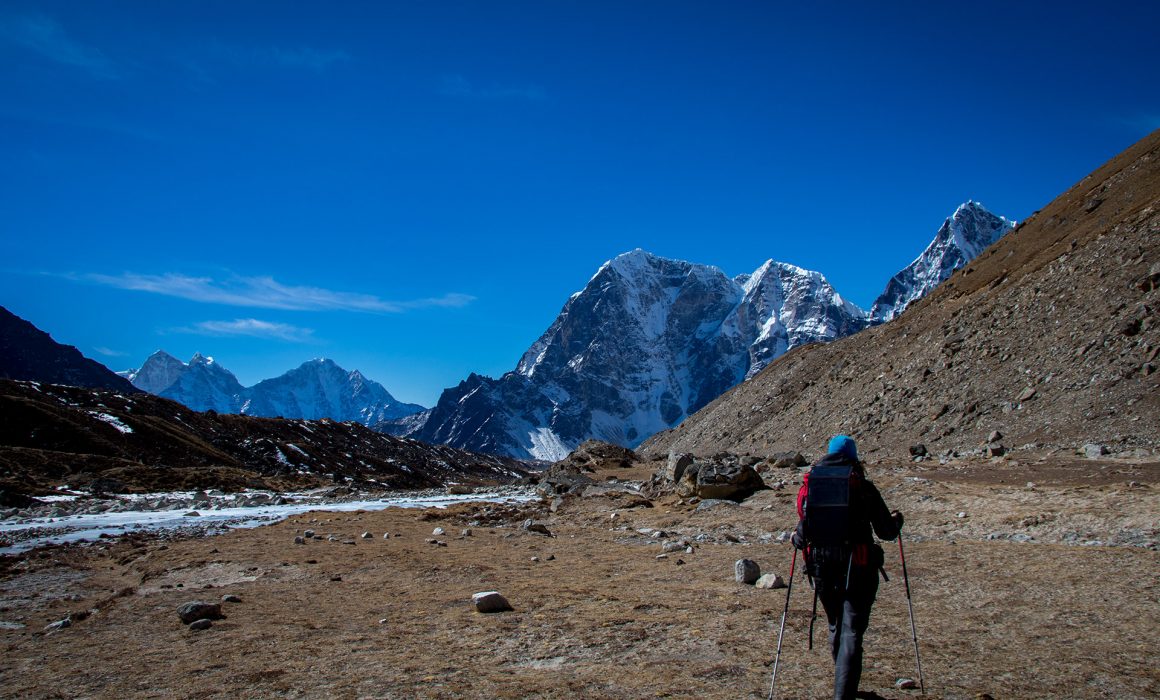 The landscape down there was more versatile than 2 hours ago with small bushes and even some berries. We followed a small stream. We were singing and dancing as if someone attempted to drug us – with the good stuff. At this moment, we were really enjoying life to the fullest. No wonder – we were already 1 km lower in altitude than earlier that day.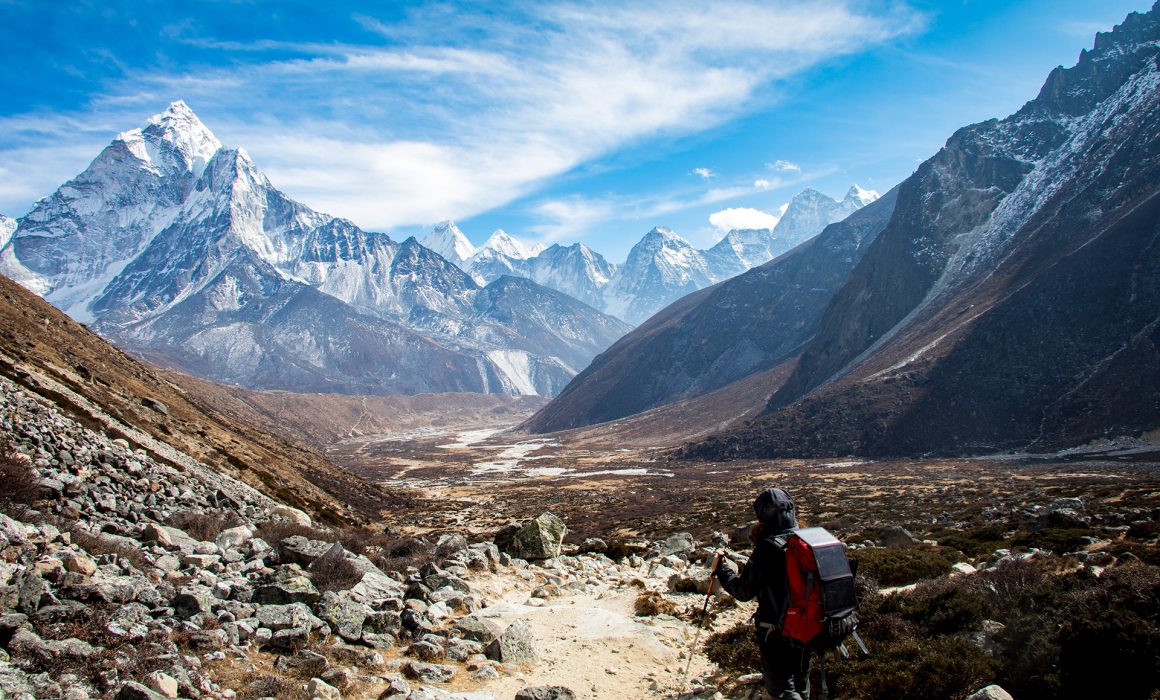 Pheriche
A man was coming directly towards us. We have met him a few days earlier, and he and his group were also at the same lodge than us in Gorak Shep. He guided a group of Americans up to EBC. Unfortunately, one of his customers had to be flown to the hospital in Pheriche, while another one had to be flown directly to Kathmandu. They started to feel sick right after their trek to Base Camp.
Shortly after Pheriche, the pass went uphill, but no problem for us. We had our running shoes on, without stopping once we reached the top. Now, we understood the people, who passed us a couple of days ago. We had the same huge smile on our faces. I guess there is no better feeling than oxygen in your lungs and a warm bed in front of you. Just amazing!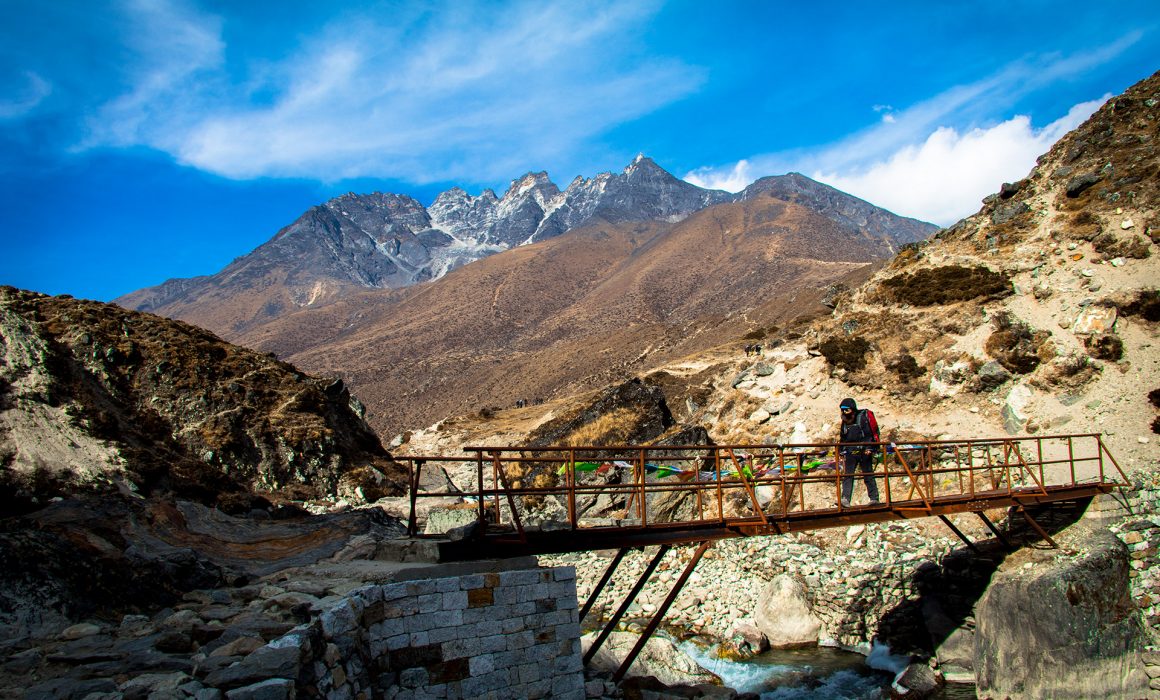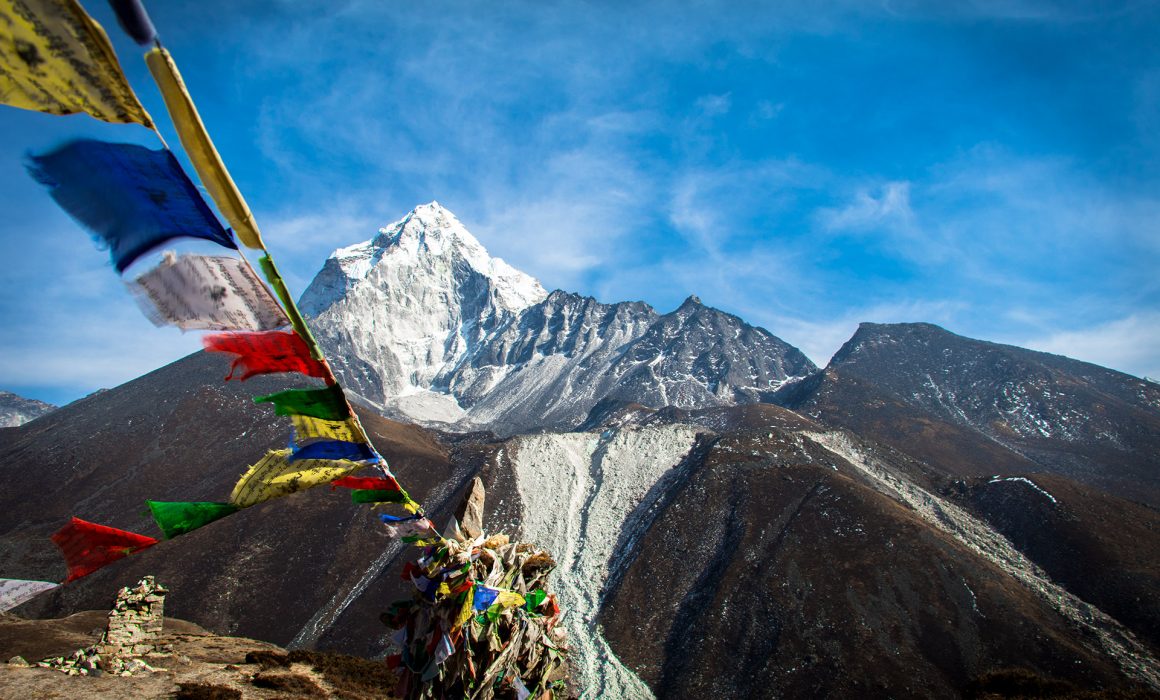 We were not sure how long we could continue like this, we did not really have a daily goal. But it was already getting late, and we didn't want to be in the middle of nowhere.
When the sun started to set we decided to call it a day and look for a place to sleep. In Pangboche the path split, and we had to choose, if we wanted to walk the same route towards Namche, or hike towards Phortse, which would avoid the ascent at Tengboche.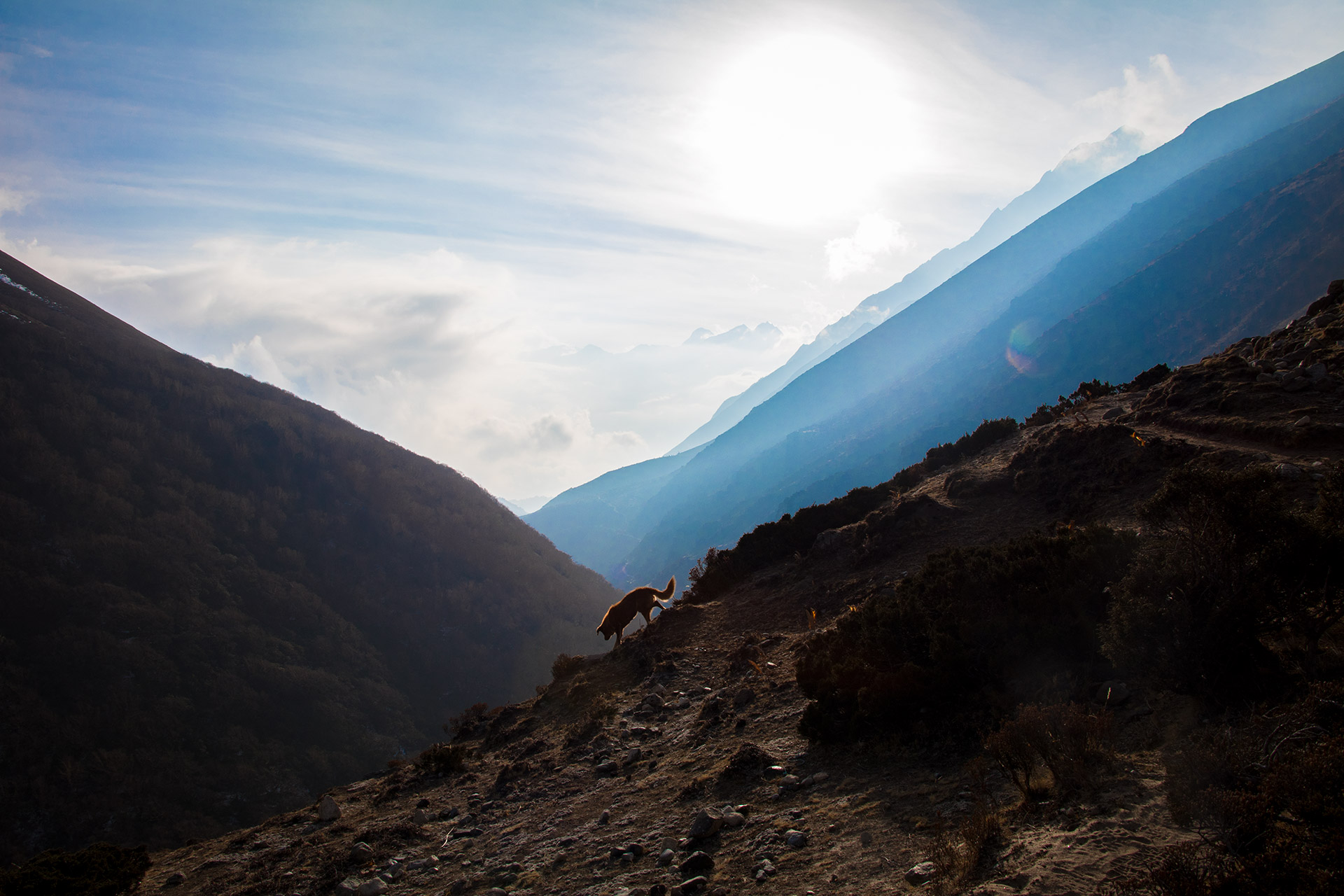 Pangboche
A woman caught us close to her lodge and guided us safely towards her place. Maybe after a good nap and some food, it would be easier to decide. The lodge was nice, and the owner amazing, like usual. But most important: the room was warm! ♥
After a plate of dal bhat, we went to bed. What a day … I guess it will take months to realize what we had accomplished, in the week before.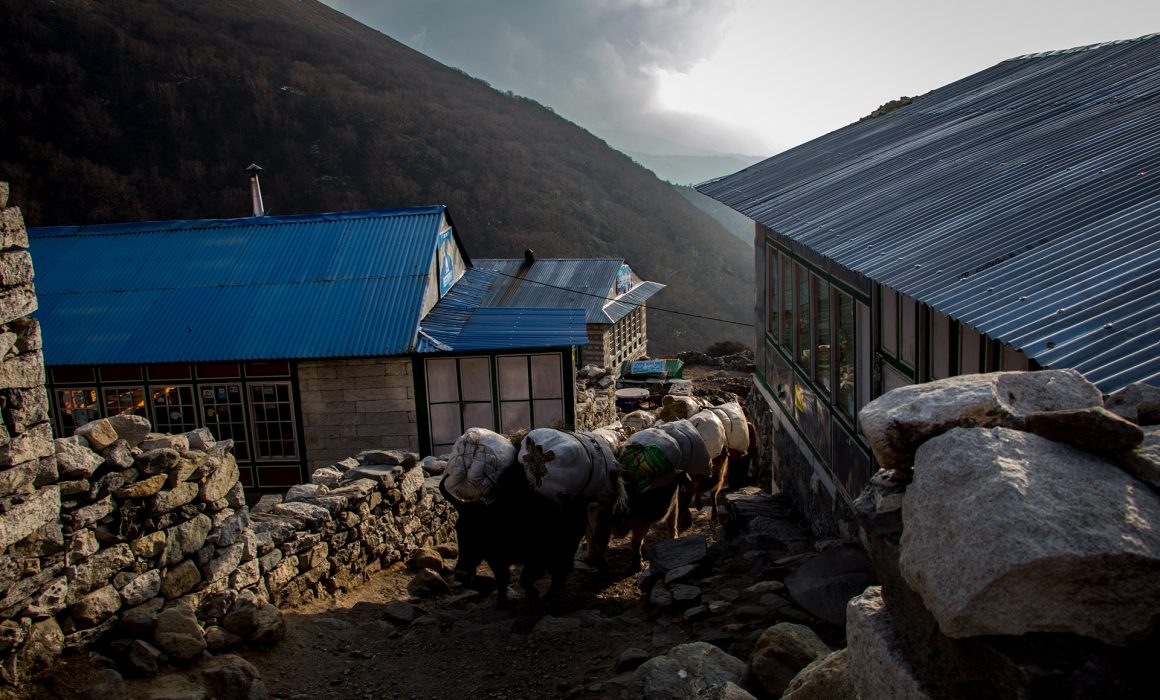 Sunflower Lodge in Pangboche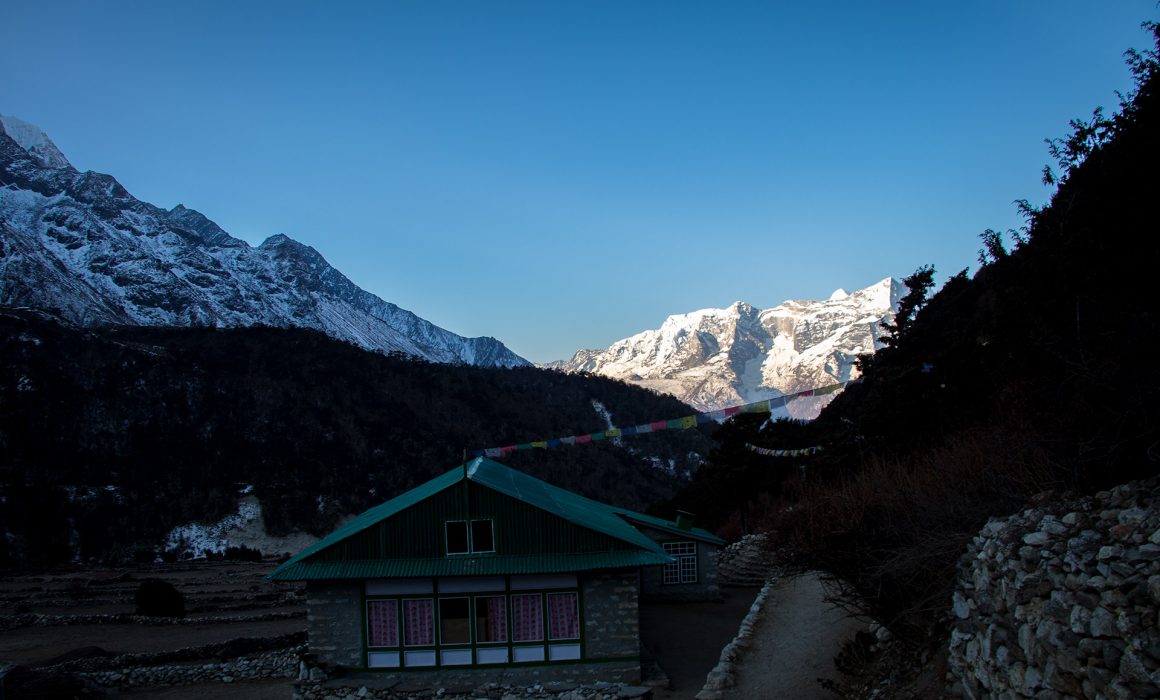 Video Impressions of the Everest Base Camp Trek:
Video Impressions of the Everest Base Camp Trek: