Everest Base Camp Trek Day 8
Dughla – Lobuche
Hiking 3.3 km  | Ascent: 344 m | Descent: 19 m | Max Elevation: 4934 m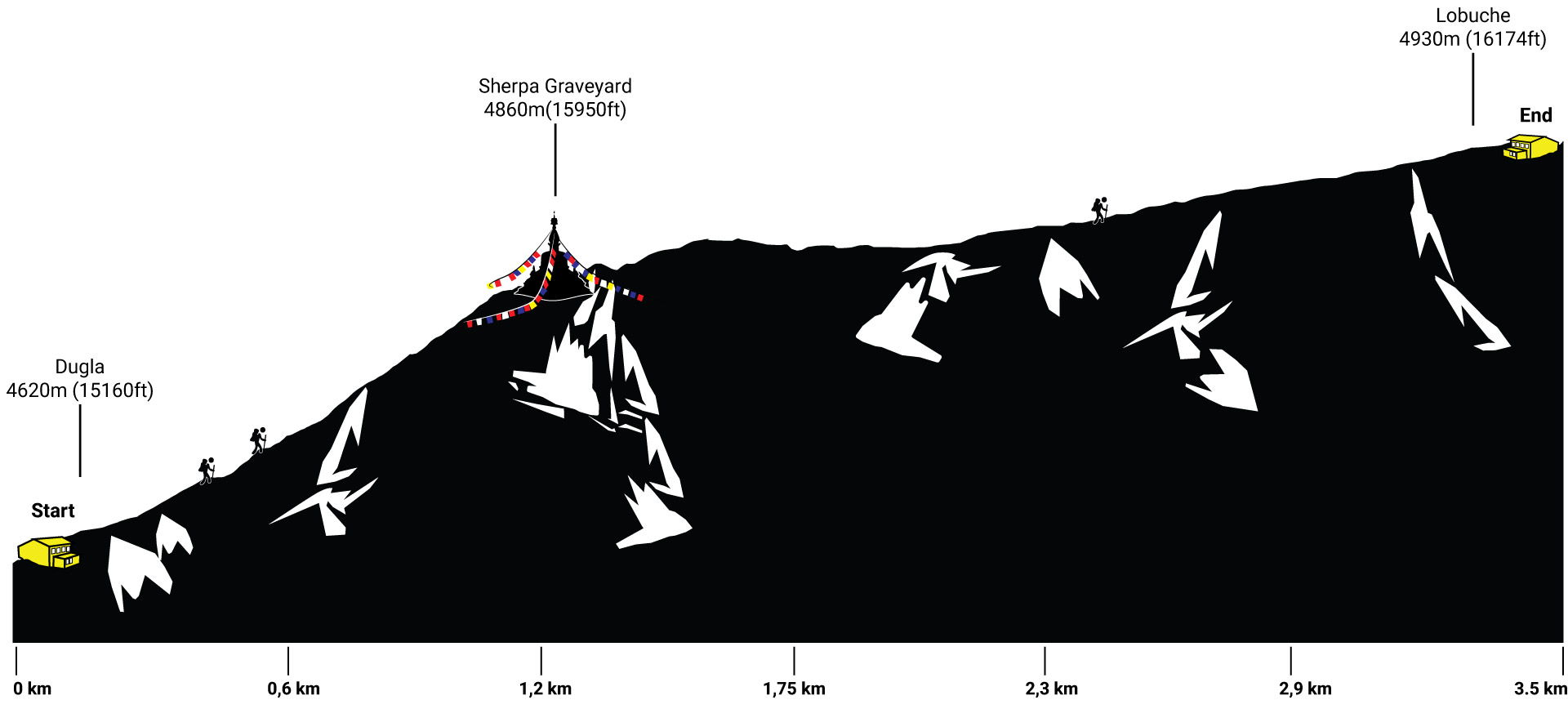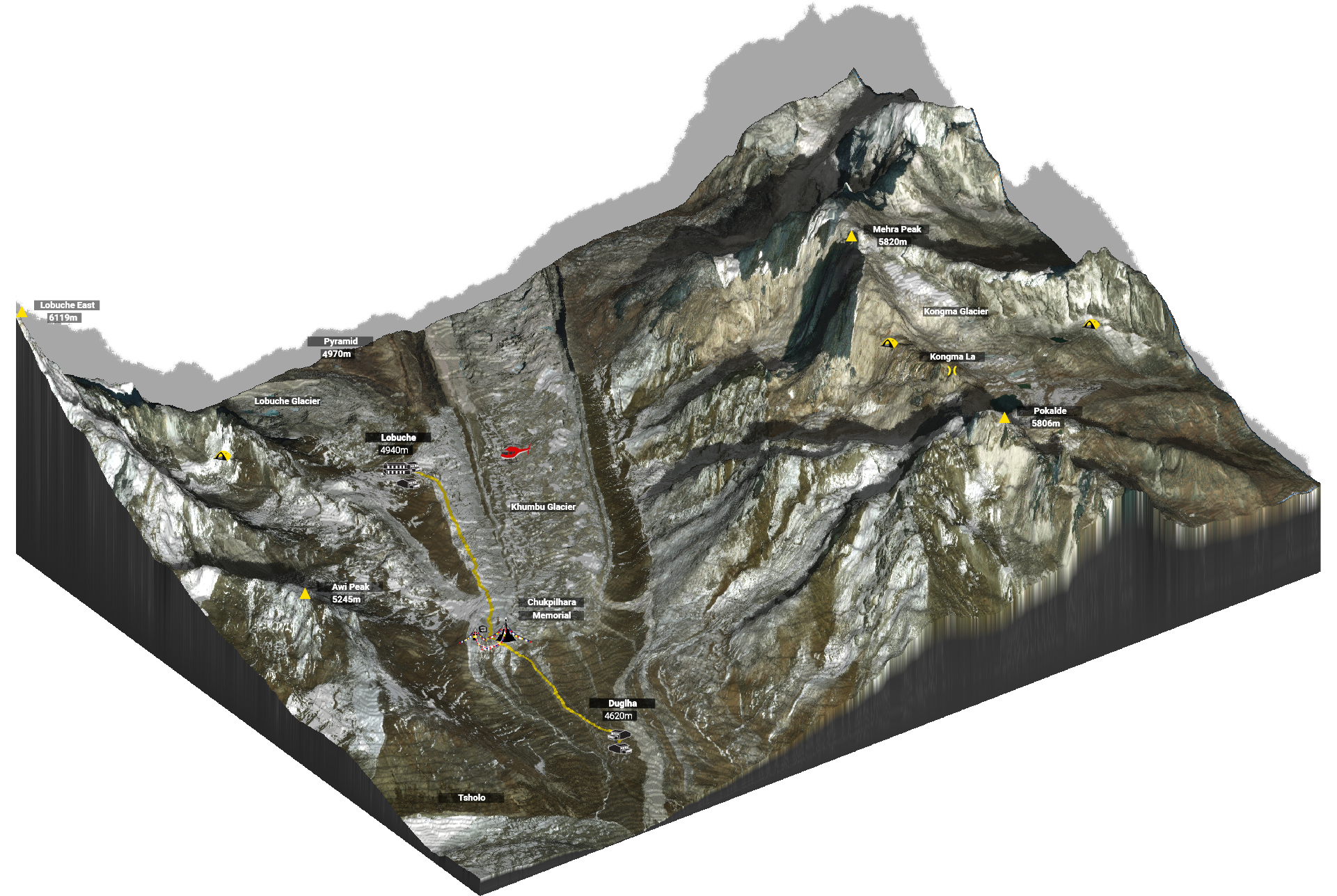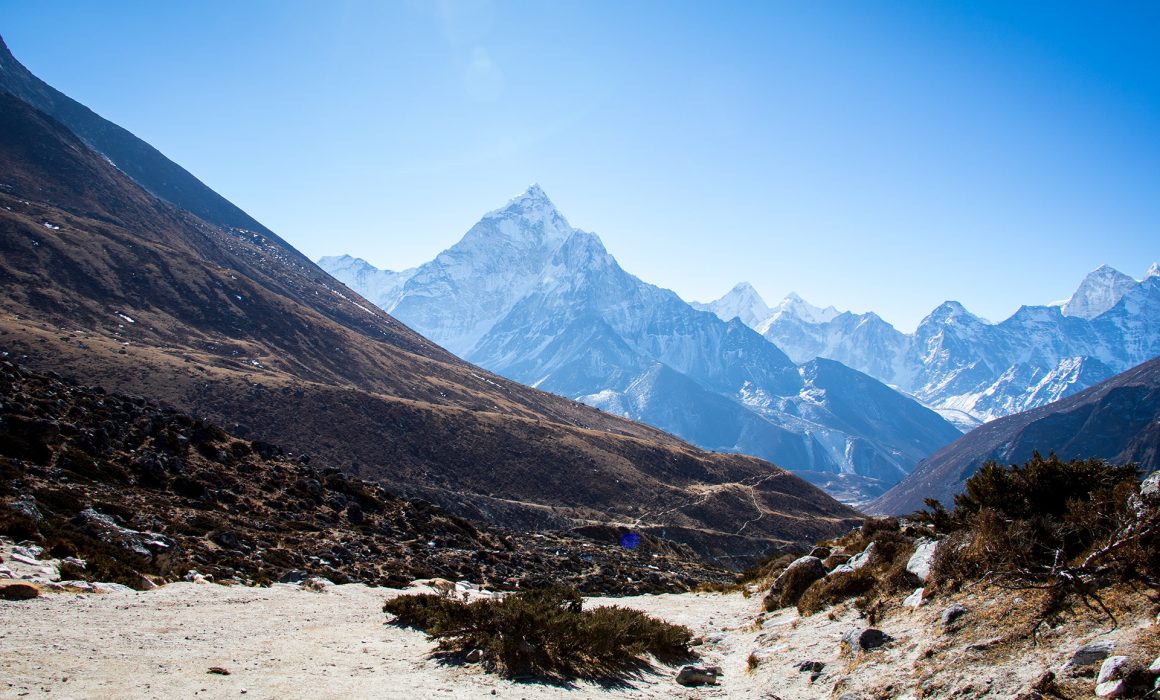 Dughla
We went through what felt like the toughest uphill climb we have ever encountered. It was in the same category of misery than the "big jump" up to Namche Bazaar. We stopped every few minutes to gasp and catch some air.
It wasn't really about the steep terrain – we already encountered worse than this – it was the altitude and the sheer lack of oxygen that came along with it. No matter how hard we tried there never seemed to be enough oxygen in the air.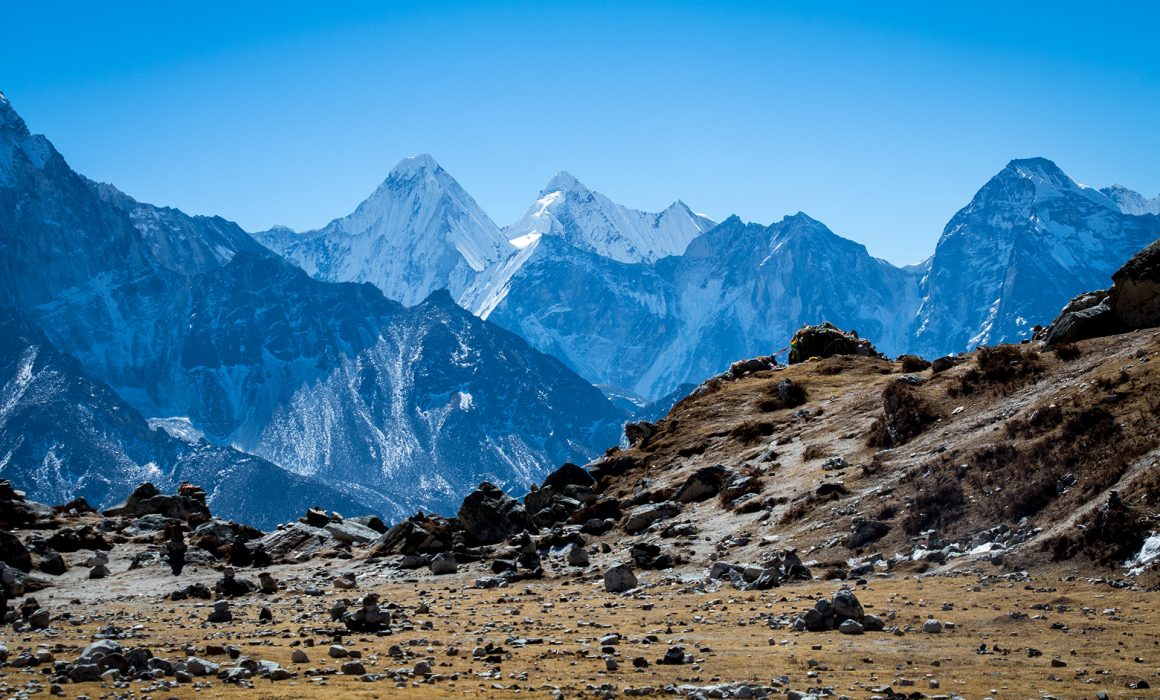 We both climbed the hill in autopilot mode. Just focusing on the breathing and to not slip on the gravelly path.
When we finally made it to the top, we forgot all the struggles we just went through, and the Himalaya rewarded us with breathtaking views, once more. If you think it can't get any better… up there it can.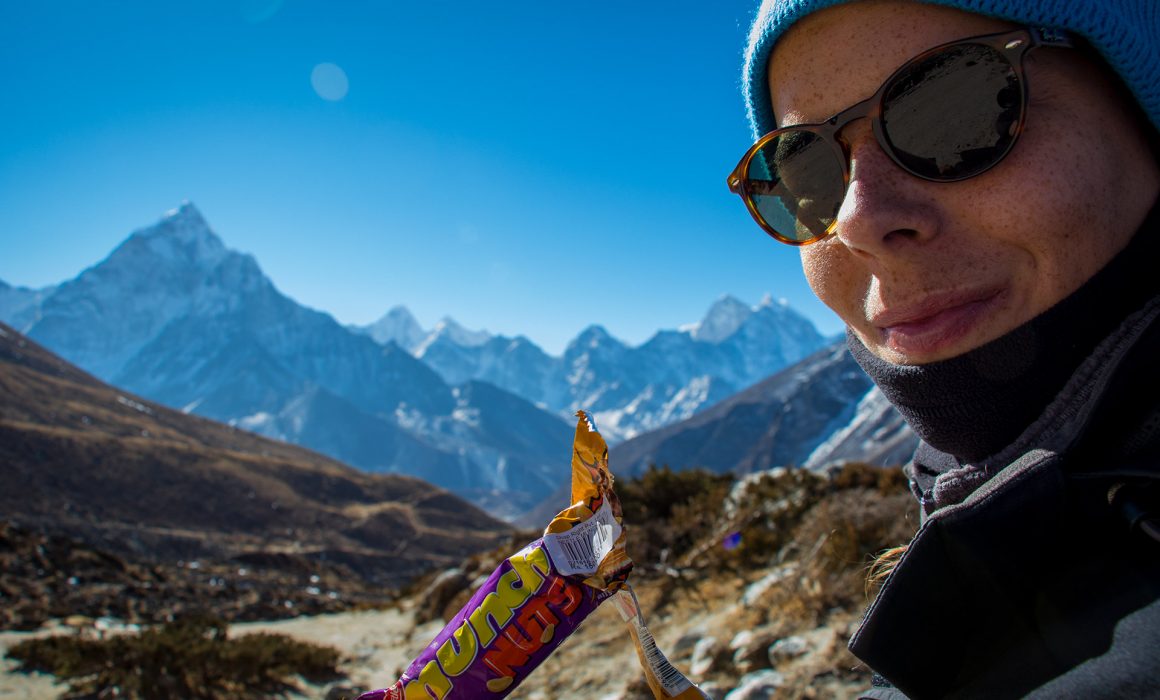 Thokla Pass Memorial
At the top of the pass is a graveyard, equipped with a tangle of prayer flags. The Dughla Pass is a memorial for people who died after summited Everest. A mysterious place, which reminds you how deadly and dangerous this mountain was and still is.
We took a break and walked around the graveyard for a little bit. Staring at the prayer flags, which were waving in the wind. The view was overwhelming.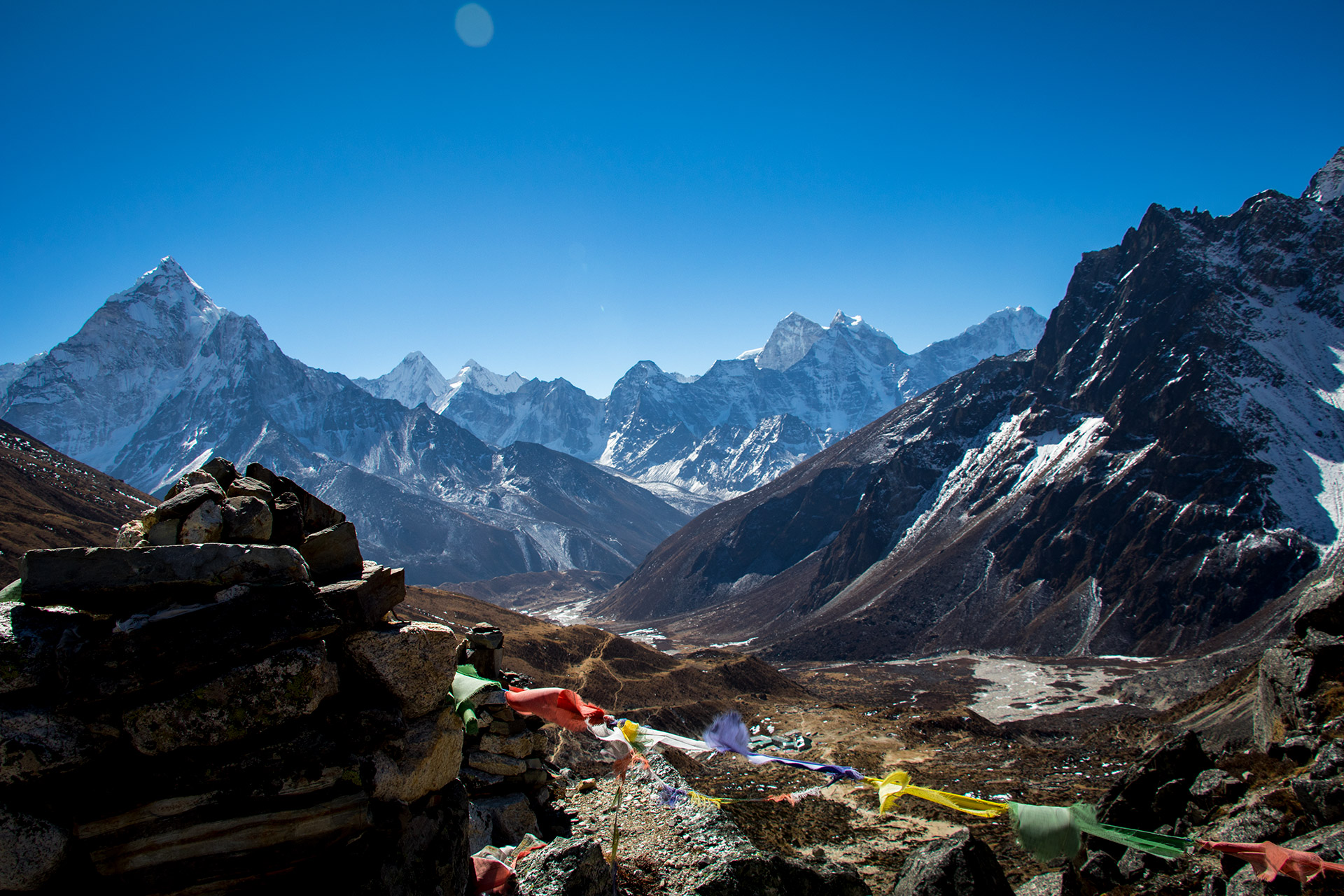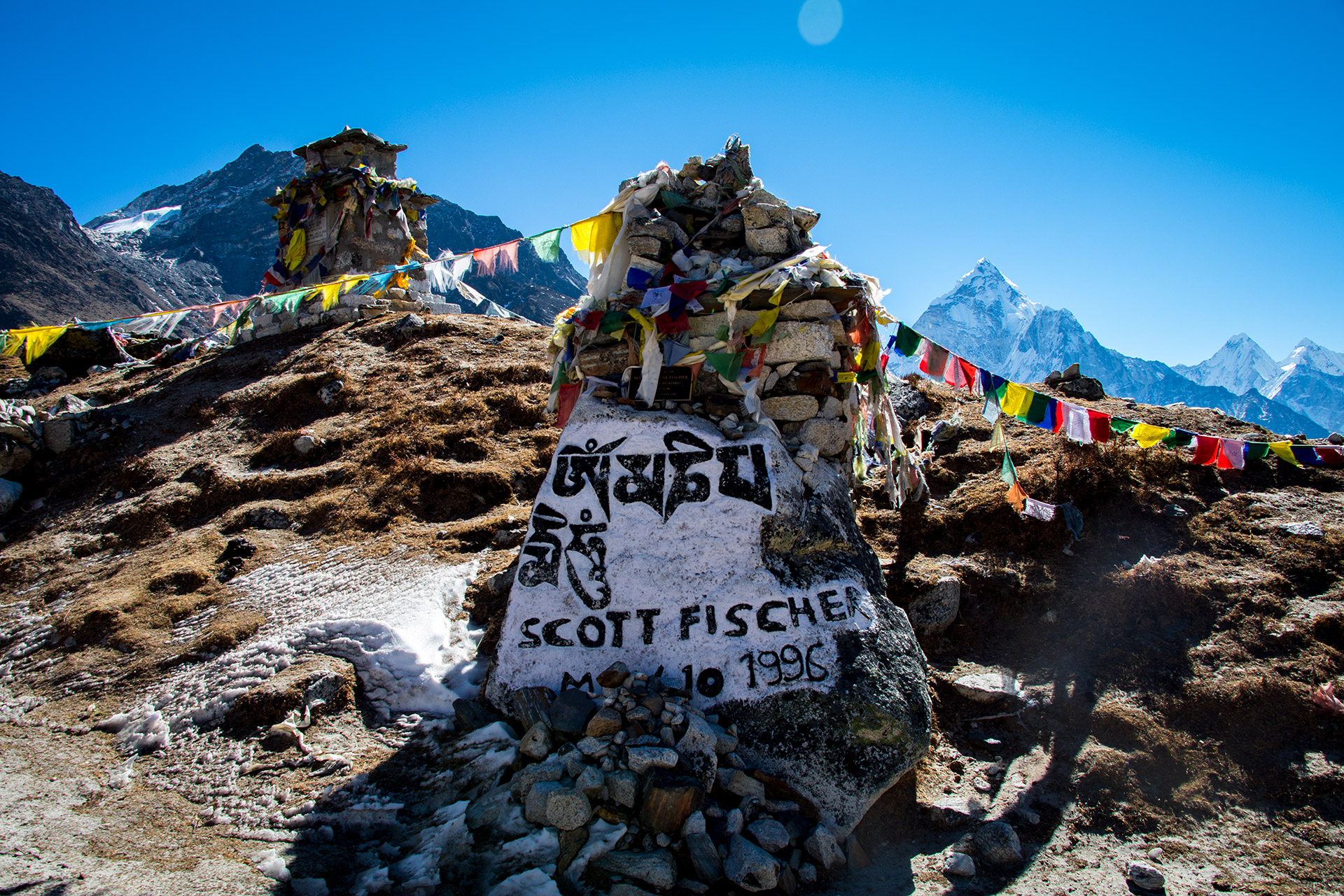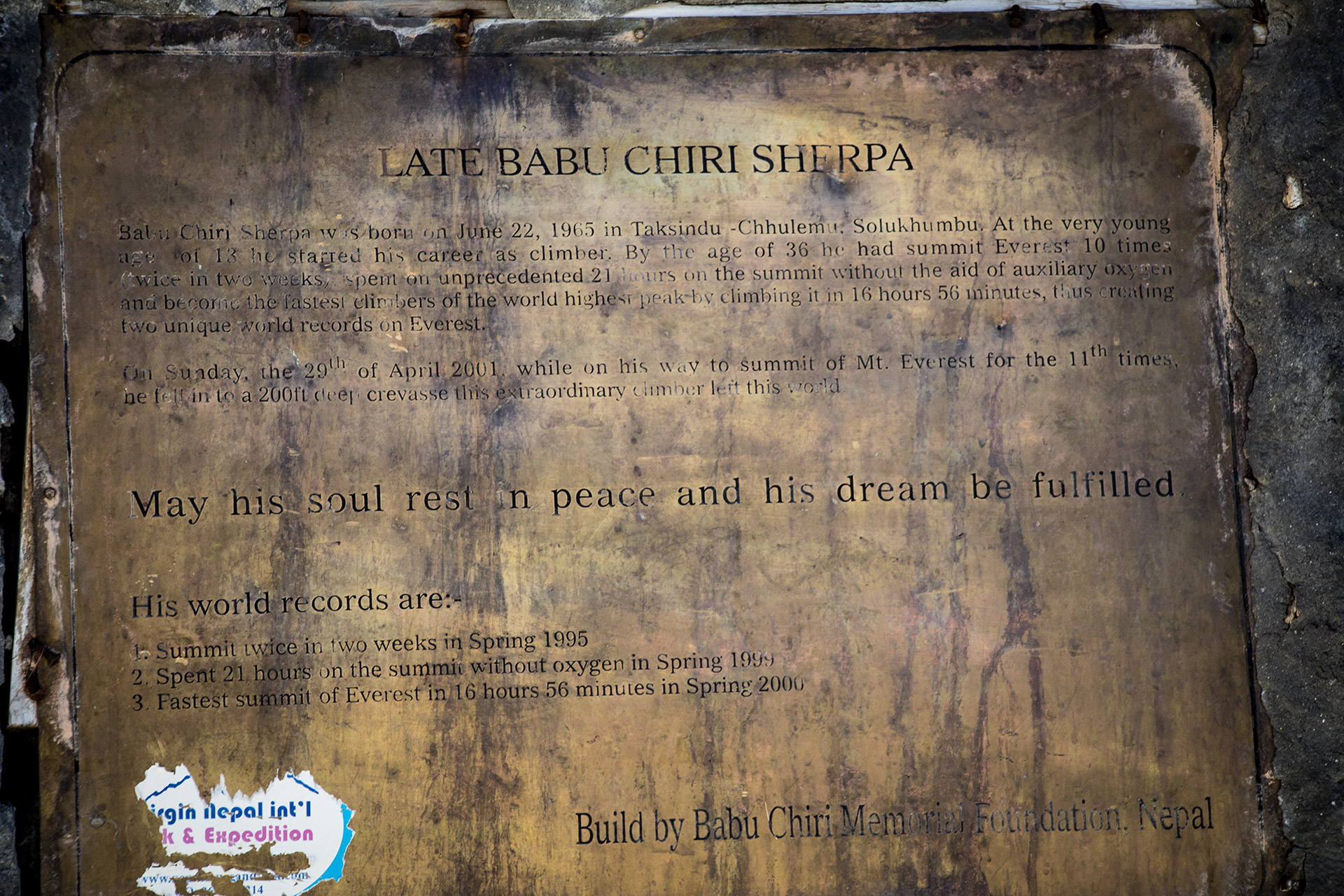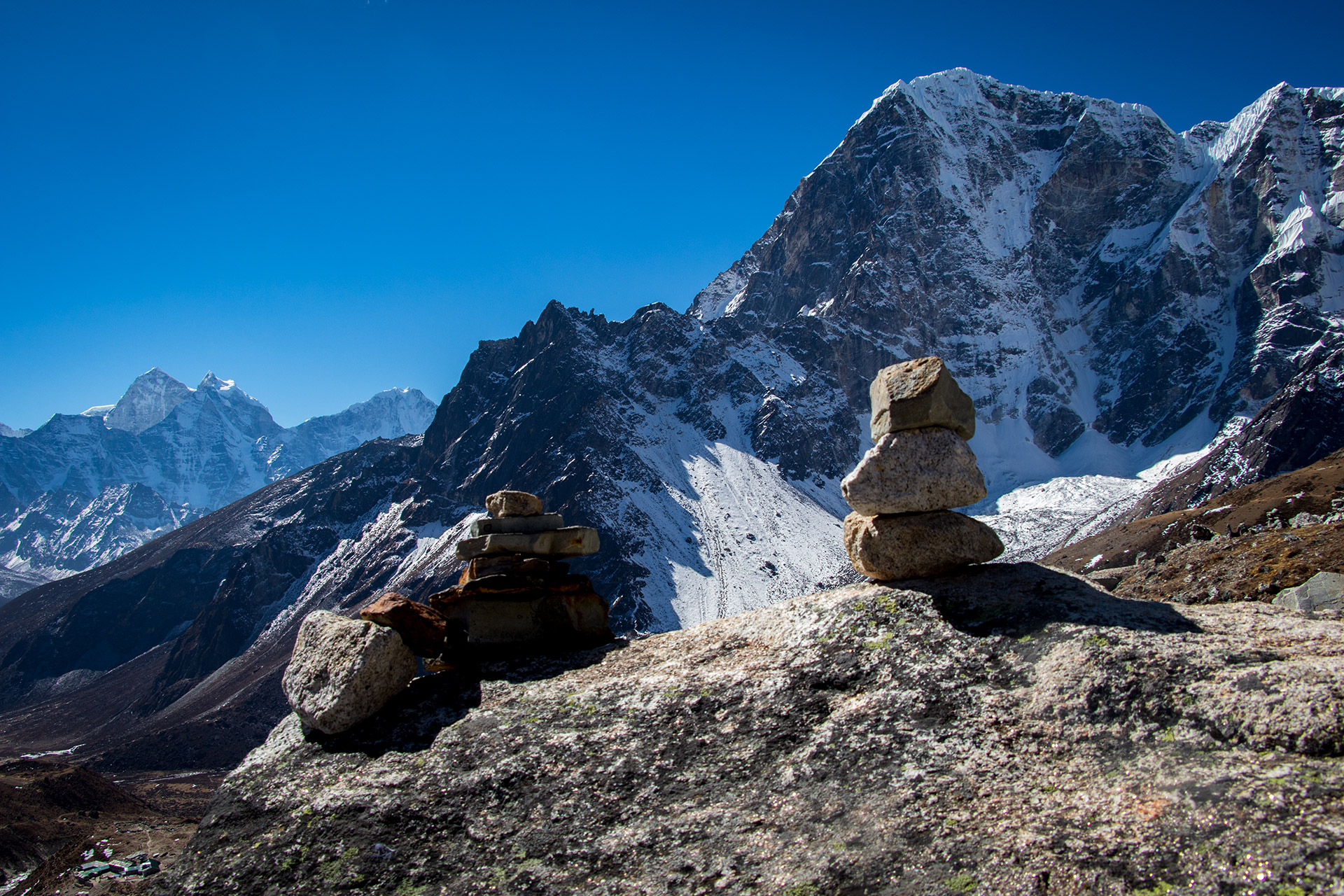 After the next turn, we could finally see Mount Nuptse, the summit is just two kilometers away from the summit of Mount Everest. Its steep west face drops down about 2.400 m to the Khumbu-Ice glacier and is covered in ice and snow. I could stare at this mountain for hours – so beautiful!
I googled Mount Nuptse a lot before we went to Nepal, but I couldn't believe my eyes. That whole mountain looked so unreal. Nuptse is the Nepalese word for western peak, which means it's the western peak of the Mount Everest Central.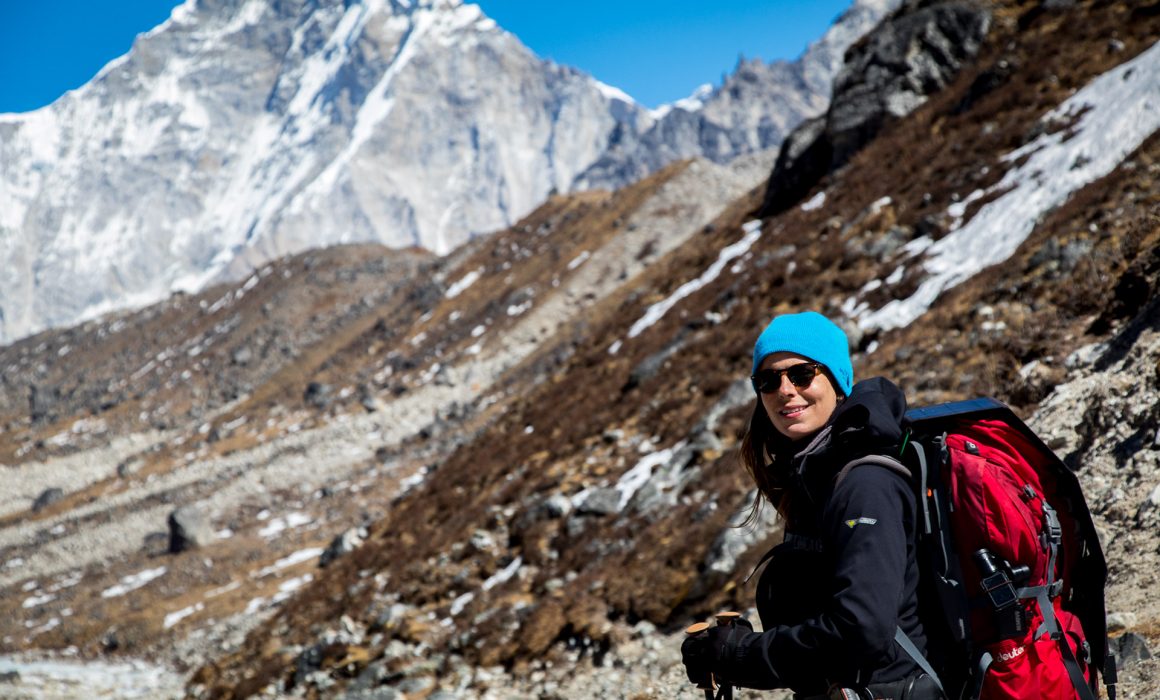 The small valley we walked through was a nice change compared to the climb earlier. Some parts of the trek were really slippery, and we thought about attaching our crampons. But the ice patches disappeared. The Khumbu glacier – which wasn't visible yet – was on our right-hand side. At that point, we were well past the tree line and into glacial moraine, a grey, and barren landscape. We caught our first glimpse of Kala Patthar, which we wanted to climb two days later.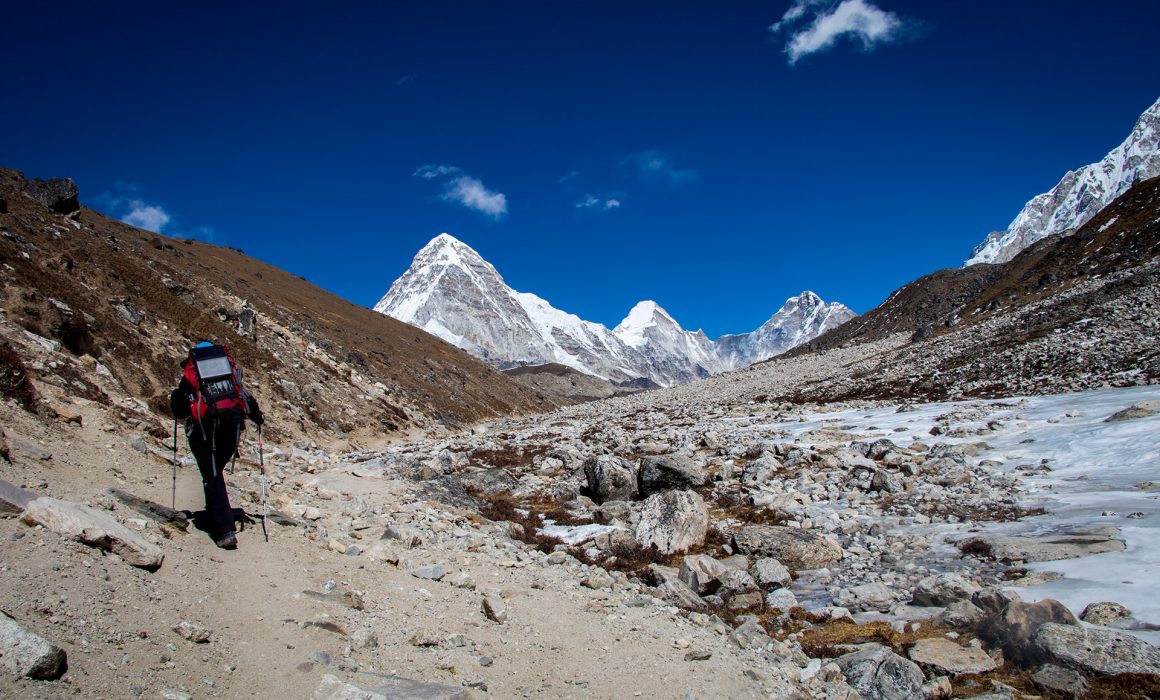 Arriving in Lobuche
An hour later we arrived in Lobuche. A lodge was quickly found, and we ordered some food. This place was nice, it had magazines, books and most importantly a really fascinating weather station – at least to us at that point on our trek. (We ordered a temperature scale for our GPS right after arriving back home. We do not want to miss out on all the temperature fun on our next trek!) During the night the temperature was falling below minus 25-degree Celsius.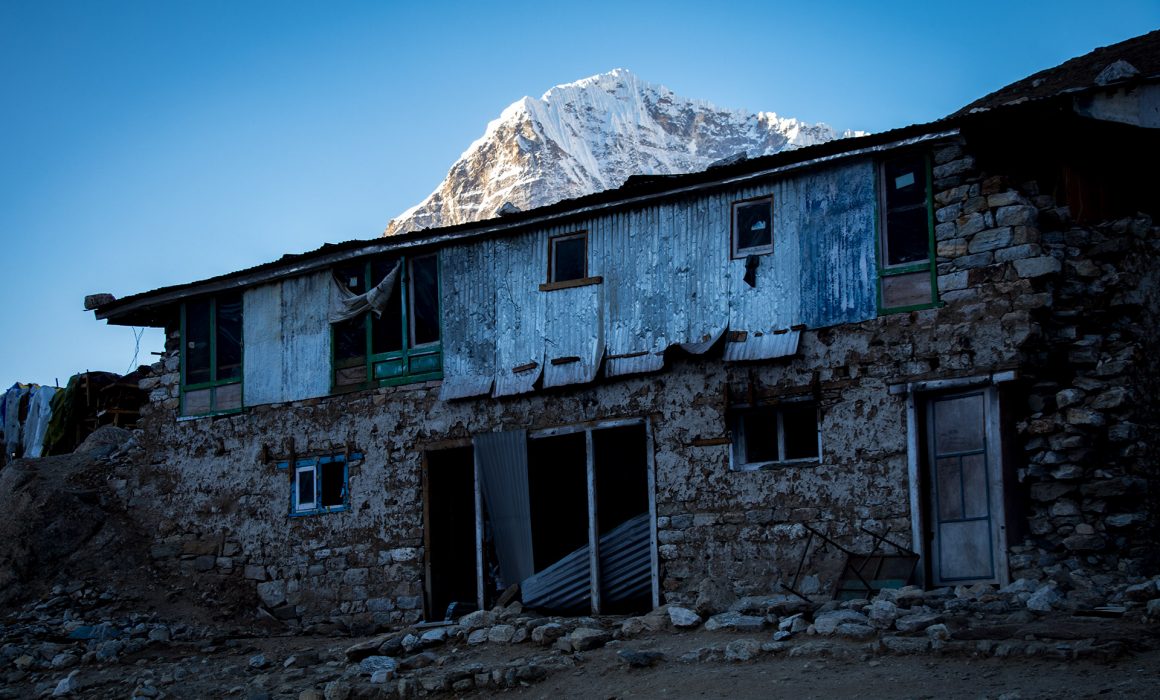 Our room was more or less like every other room on the trek. Simple but with everything you need to sleep: a bed. We chose the lodge after Bella discovered that the rooms had double glazed windows. It might sound crazy, but that was a thing we were actually really looking forward to. It was still icy at night. (On our way down someone told us about three glazed windows in Lobuche! Whaaaat…?)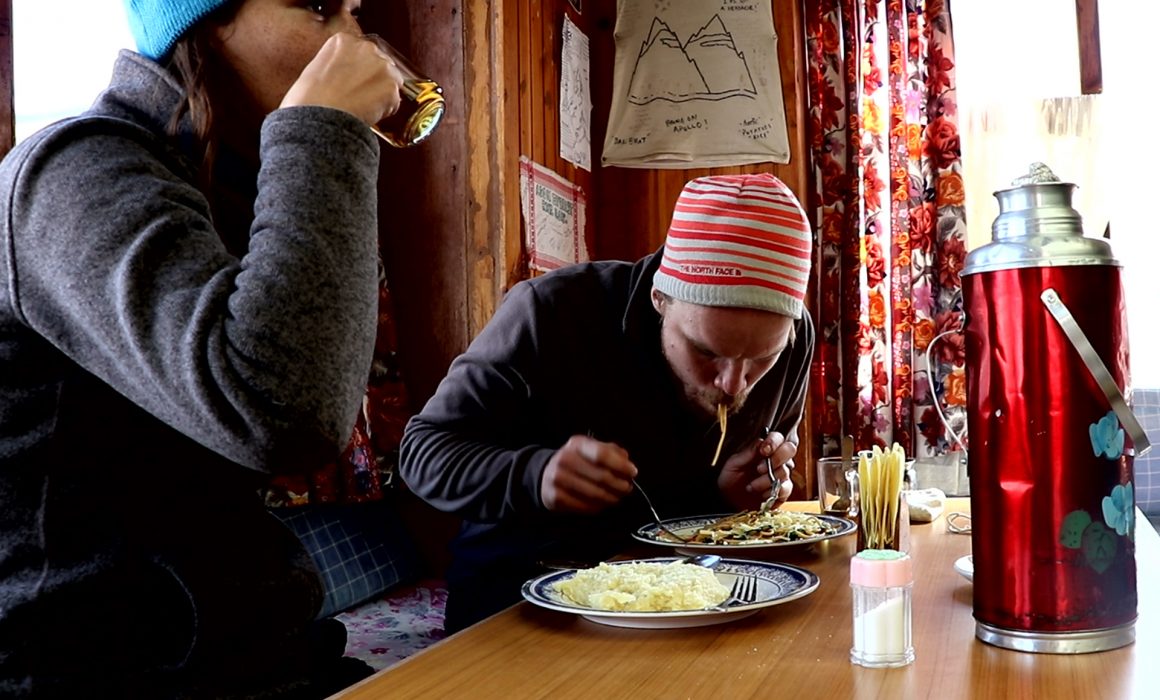 ---
Despite the high altitude and a mild headache that I had for the last couple of days, we actually felt pretty good. I couldn't believe, that after all those weeks of planning and preparation, we would finally be at Base Camp tomorrow.
Video Impressions of the Everest Base Camp Trek:
Video Impressions of the Everest Base Camp Trek: