This post contains affiliate links.
Everest Base Camp Trek
Packing List
Hiking the EBC Trek wasn't a lifelong dream we had (at least we didn't know it at the time), so the amount of time we had to plan this trip was limited. We knew the most important task was putting together a solid packing list for all sorts of events.
Below you can find the entire list of gear we brought with us, and we were quite satisfied with the outcome. We never really missed a thing (in fact rather the opposite).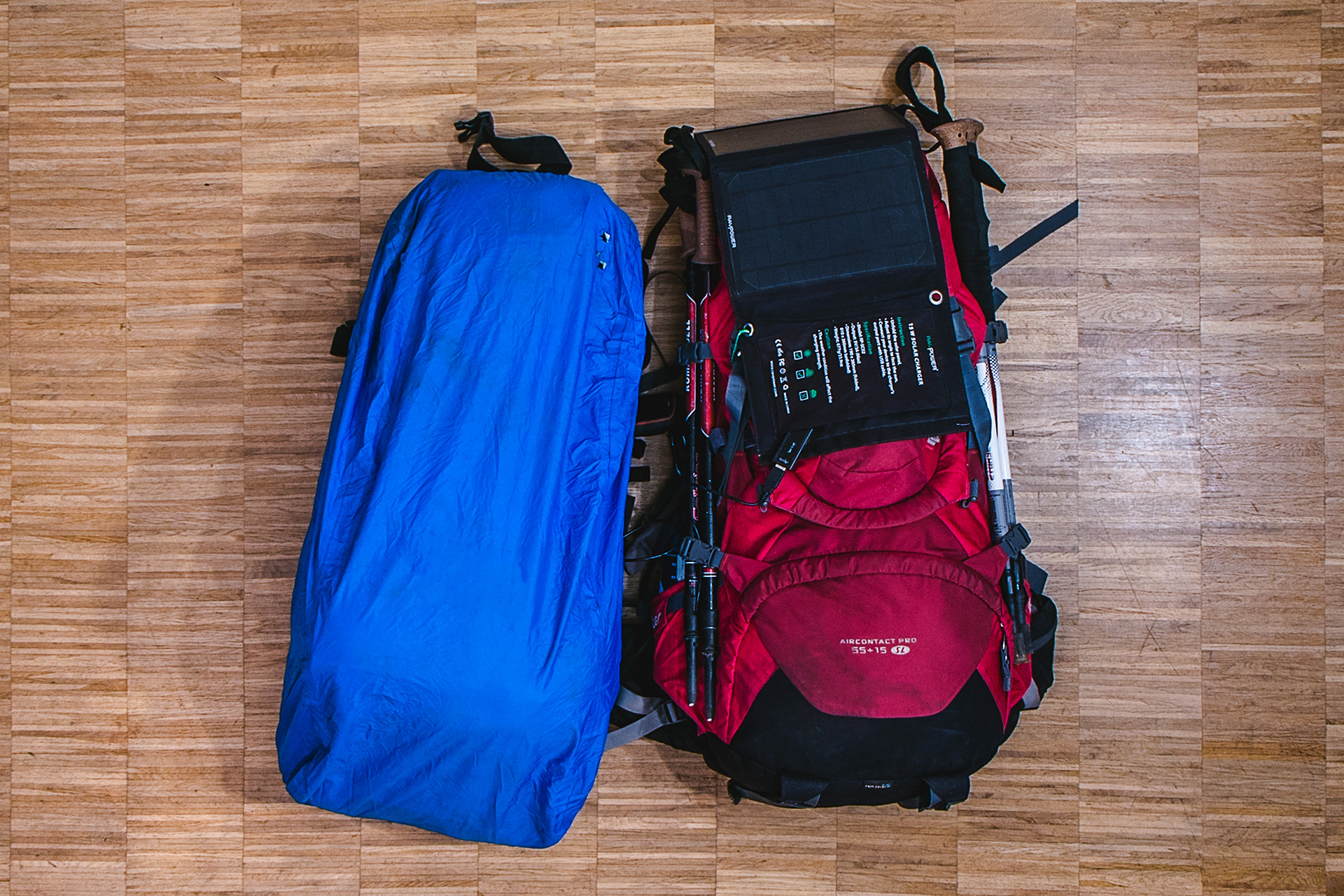 Clothing
Rule Number 1: Layer the onion out of you!
Base Layer
 
don't forget your underwear!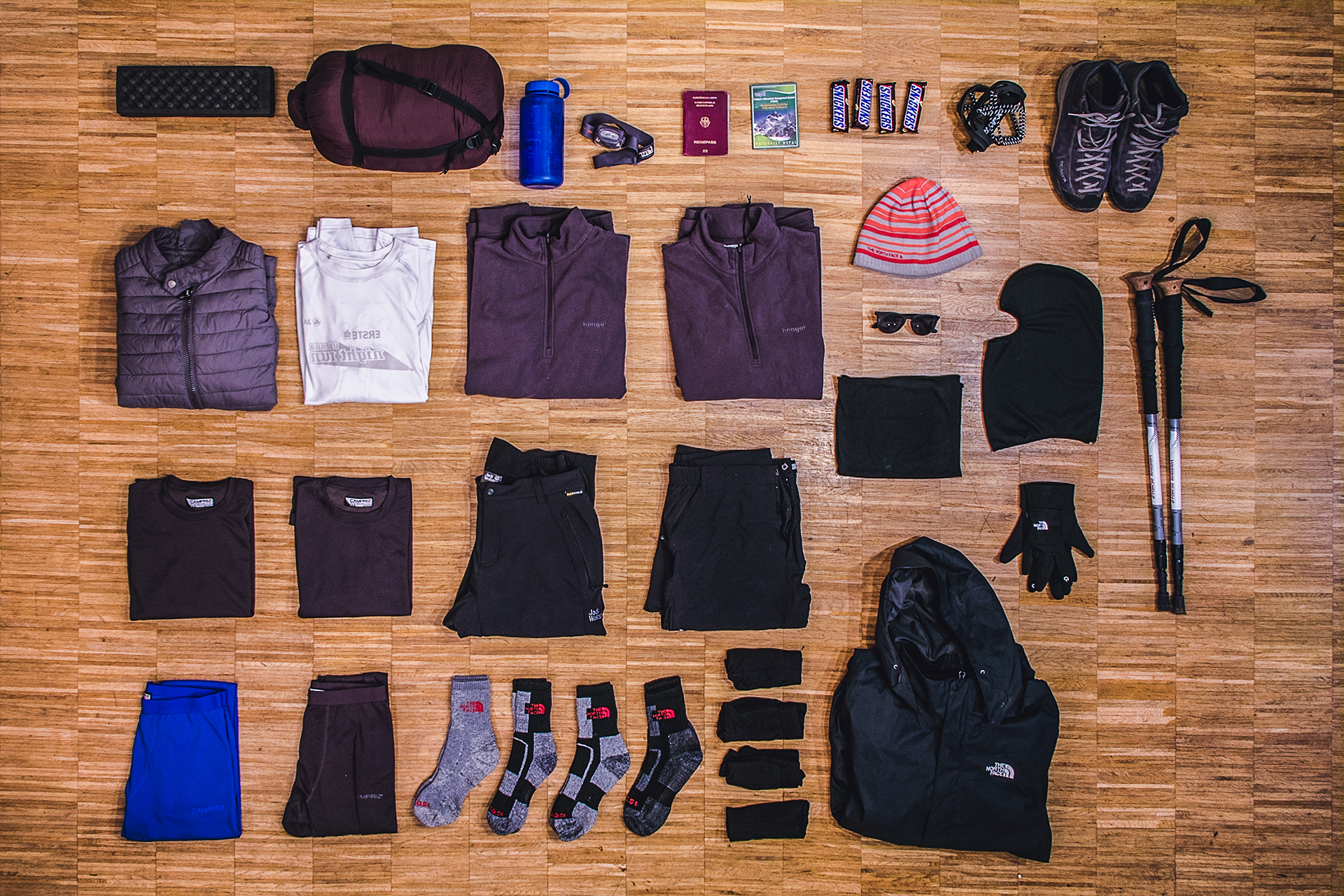 Gear
Since you are sleeping in teahouses, you don't need a whole lot. There are lots of stores in Namche Bazaar, where you can reconsider your choices if you forgot something. Obviously prices there will be higher than in Kathmandu.
1 pair of (polarized) sunglasses
1 headlamp
1 heavy sleeping bag
(tea houses supply blankets, but the extra cushion makes all the difference! We bought our sleeping bags in Kathmandu. They were on the expensive side of the North Face Imitation gear, and we are quite happy with the quality. In hindsight we would have bought it at the official North Face Stores since they had great deals on this one)
1 water bottle
(we packed an additional camel bag, which was great)
Snickers
(yup, an essential gear: fuel. We carried them all the way from Kathmandu. Its worth the price!)
1 pair of trekking poles
(this is not necessary, but we love ours!)
Garmin or another GPS device
(again, this is not needed at all, but we enjoyed to check our speed, the altitude and how far away our next tea or MoMos were.)
a whistle
1 pair of crampons 
(only necessary if you plan on crossing the Cho La Pass)
1 foldable hiking seat
(great to not cool down during breaks)
1 light daypack
(to hike with on you acclimatization days. It's nice to switch to something small)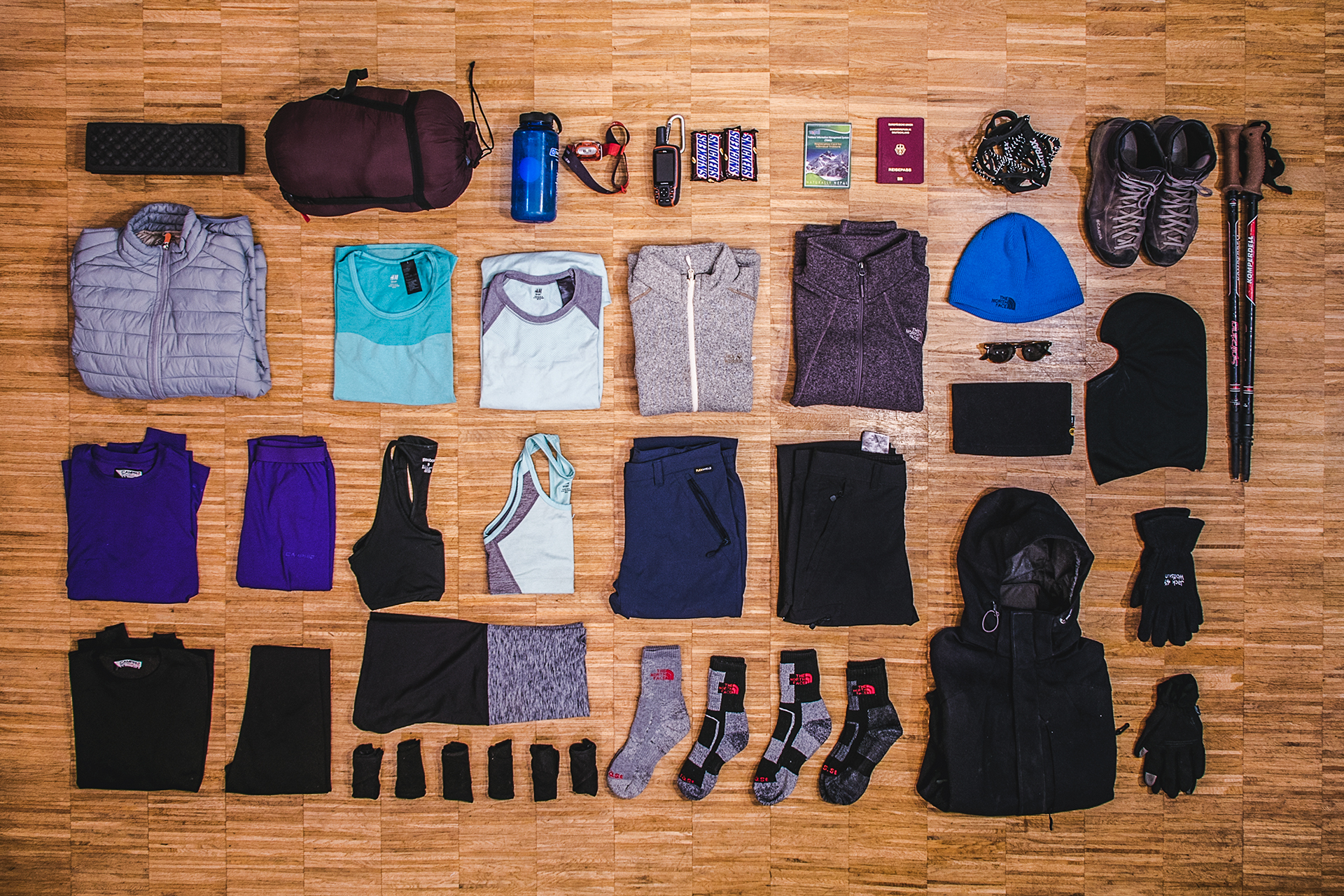 Documents
Passports
Permits:
– TIMs Card
– Entry permit to the Sagarmatha National Park
(You can get them at the Nepal Tourism Board in Kathmandu or on the trek, in Monjo)
Rupees
(bring enough for accommodation, food, and drinks, a good rule of thumb is 25$ per person per day)
Map
(it's difficult to get lost on the trek, still you should always know where you are.)

Electronics
You won't necessarily need any of this. You will feel every extra gram that you have to carry up. Nevertheless, you will probably want to document this extraordinary experience. Listed is what we brought along and it is a lot!
1 DSLR camera (Canon 80D) with 2 extra batteries
(charging in teahouses is around $3 and not always accessible)
(with the Canon EF-S 18-135mm)

1 action camera (GoPro) with 1 extra battery (rechargeable with our RAVpower)
1 Gimbal (Removu S1)
1 solar charger (RAVpower)
(charging is expensive, free energy will save money and is fun in the process)
1 power bank
(we love our Anker power bank!)
1 GPS (Garmin)
Batteries will last longer if you keep them close to your body!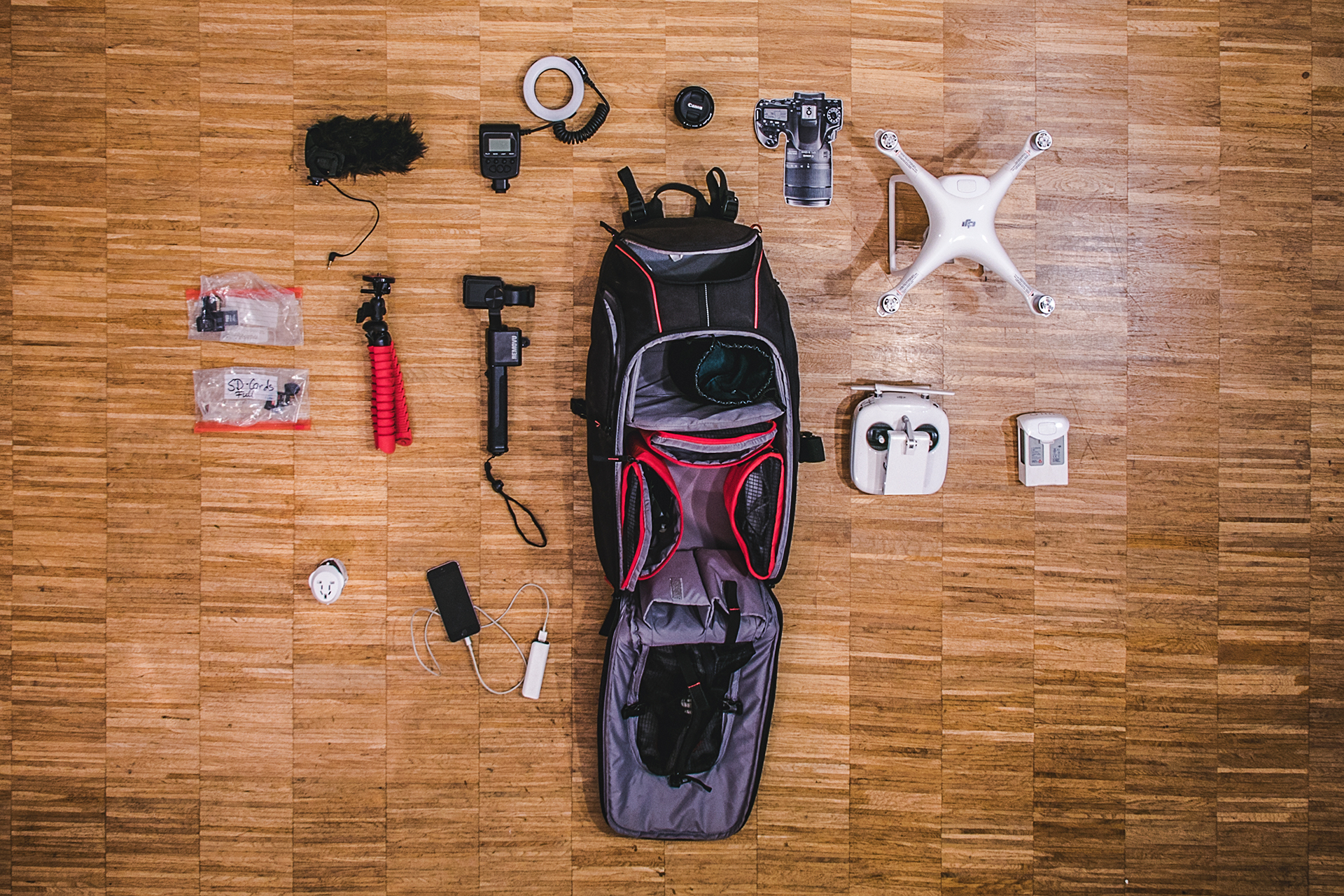 First Aid
Diamox
Ibuprofen
Aspirin
Anti nauseant
Immodium
Bandaids
Antiseptic wipes
Elastic Bandage
Triangle Bandage
Survival blanket
Blister band-aids
Safety-pins
Tweezers
Don't save weight on the important stuff, bring a well-stocked first aid kit.
Toiletries
Sunscreen SPF 50
a good chapstick with SPF
(don't consider this as unnecessary. Bring a good one! We packed a regular chapstick with SPF, and our dry lips tortured us. It was the first thing we bought on our way down back in Namche, and it felt so good to have moisturized lips!)
Toilet paper
All-purpose soap
Microfiber towel
baby wipes (too good to miss!)

panty liners (to tear an extra layer off can feel so fresh)
toothbrush
toothpaste
And that is everything we carried up to Everest Base Camp.
Weather can be sneaky; you might sweat one minute while climbing up an exhausting path and freeze the next after reaching the top. Especially during the night temperatures will drop and you will appreciate some extra layers. Choose your equipment wisely and pack quick drying clothes.
more on the Everest Base Camp Trek…
Disclosure
We are a participant in the Amazon Services LLC Associates Program, an affiliate advertising program designed to provide a means for sites to earn advertising fees by advertising and linking to amazon.com and affiliate sites.