Everest Base Camp Trek Day 9
Lobuche – Gorak Shep – EBC – Gorak Shep
Hiking 12.6 km  Ascent: 836 m Descent: 584 m Max Elevation: 5277 m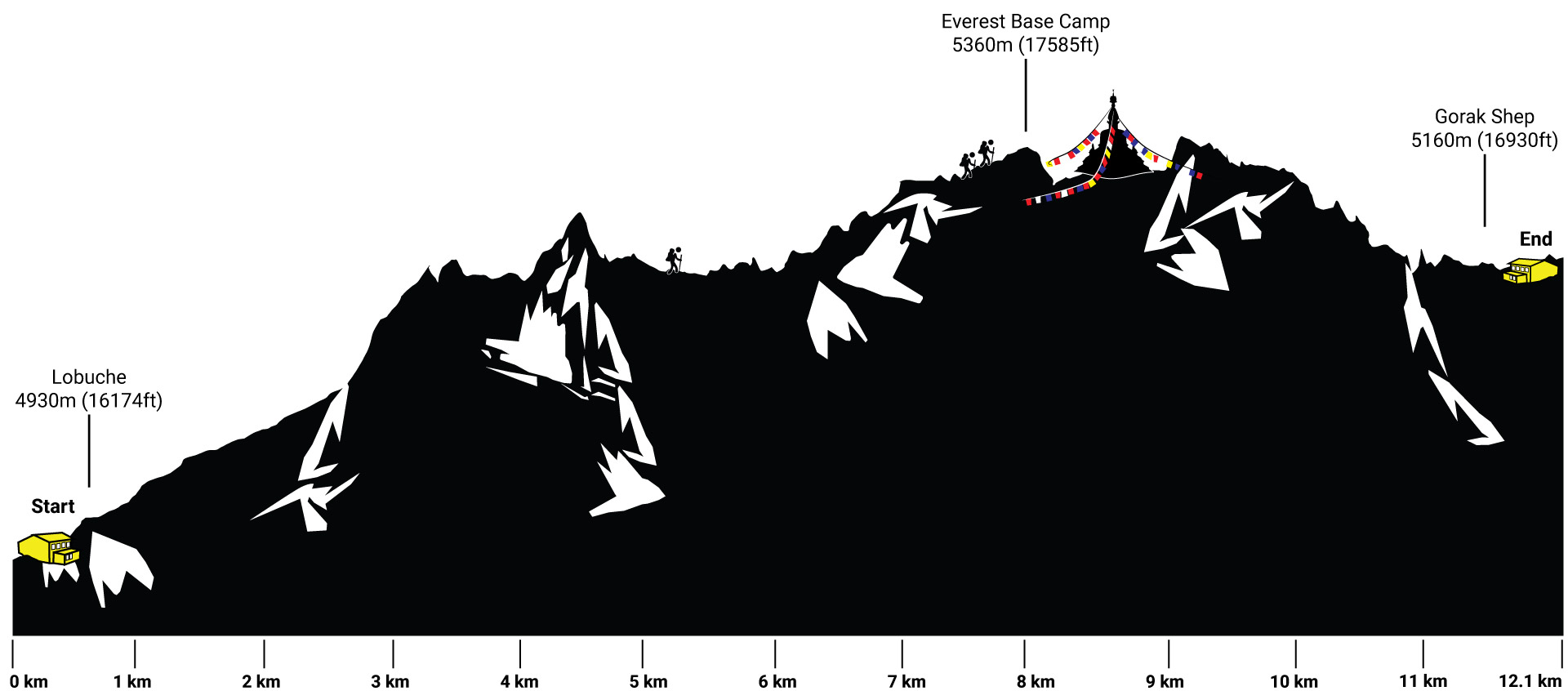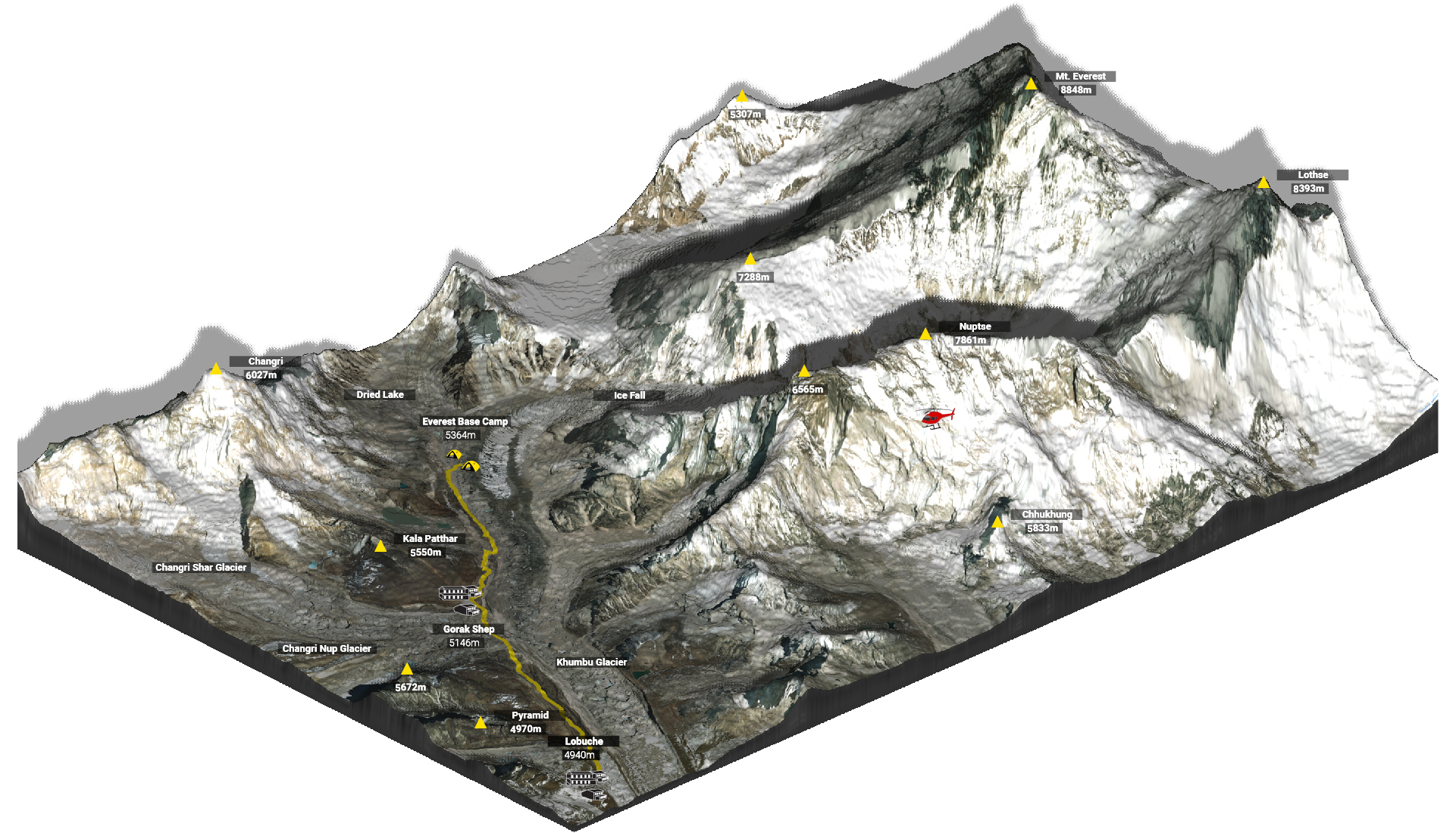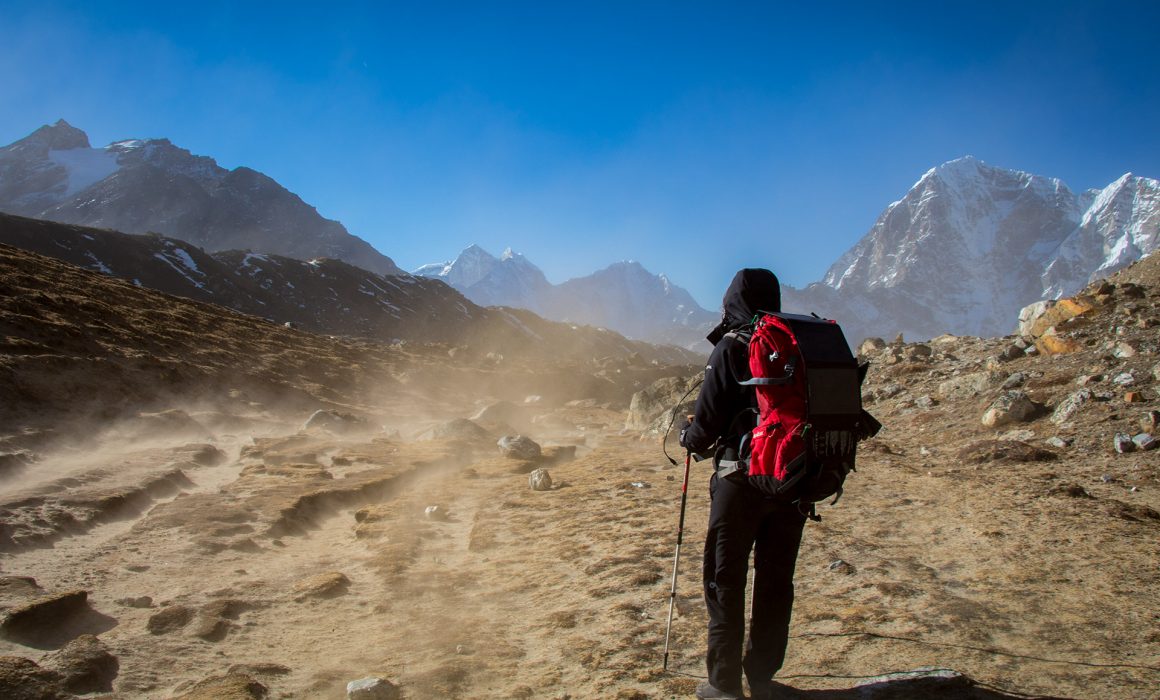 Starting in Lobuche
It's finally go-time! It is the day we have been dreaming about for so long. During the night the wind picked up, and the whole lodge was moving slightly. It was still early, and the sun wasn't out yet when we started walking. Our first stop would be Gorak Shep – the last stop before Base Camp.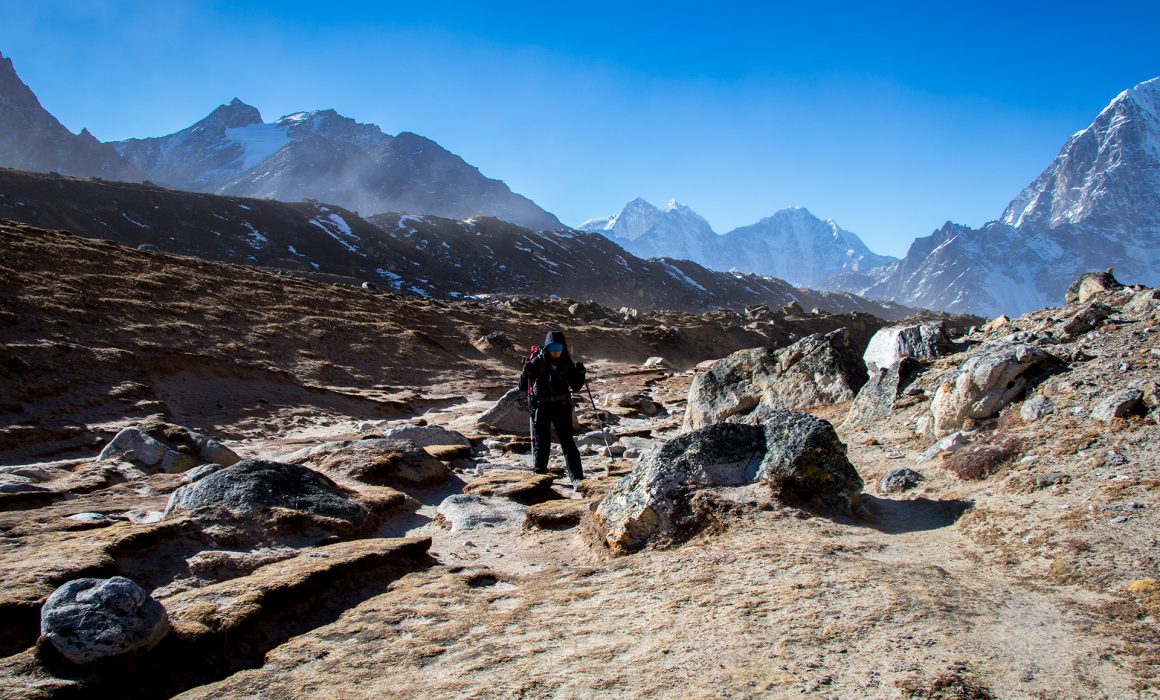 The wind was so strong that we had to wear our sunglasses to see something. The porters who started a few minutes before were hiding behind a few rocks. Because we were always a bit slower than everybody else, we knew that we had to continue. The climb is not long, steep, or intense, but the elevation (lack of oxygen) has seriously started to affect us.
Like usual, the path led up a mountain, again autopilot mode. On the way up we met the group we encountered in Dingboche. They did not stop in Dughla, so they were already on their way down. They were all in high spirits – at a time Bella wasn't really feeling the trek. Small loose rocks and tons of gravel is not her favorite ground to walk on. The strong winds ensured severe anxiety. We had to cross the Khumbu glacier which turned out to be all sorts of frightening.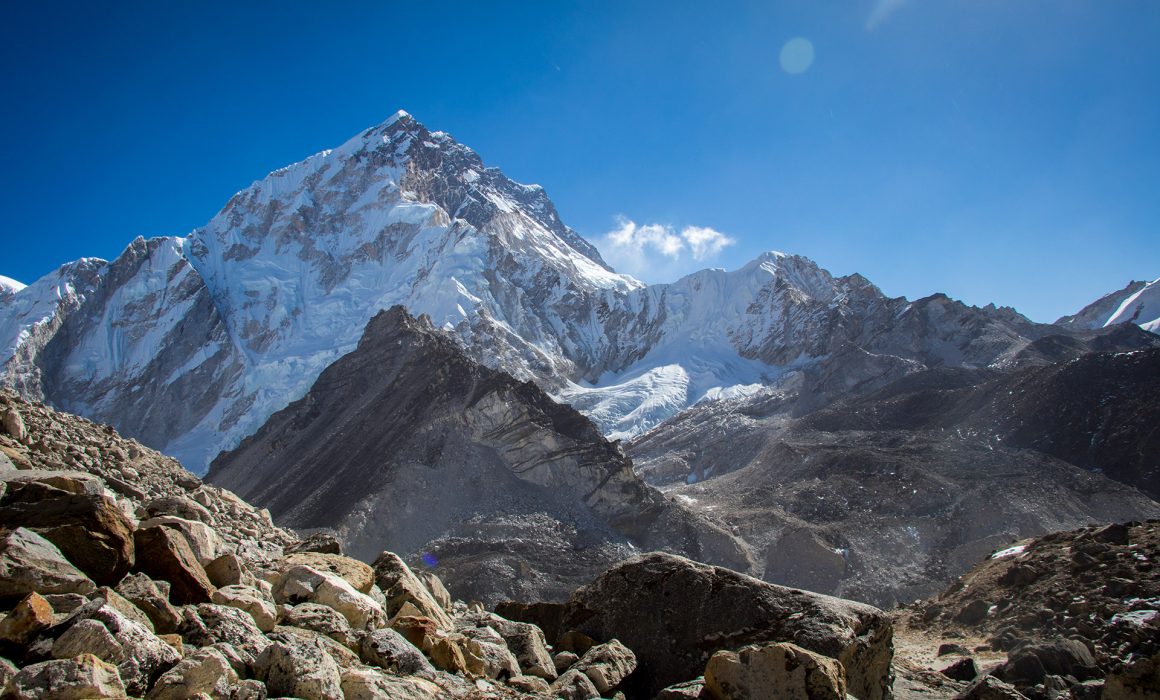 The way to Gorak Shep
This section is just a few hundred meters long, but it took us more than 2 hours to finally reach Gorak Shep. There is no visible path and incredibly loose scree, it was hard to move, and every time you thought you had a save stand, the wind pushed you back again. I wasn't sure if we could make it to Base Camp that day.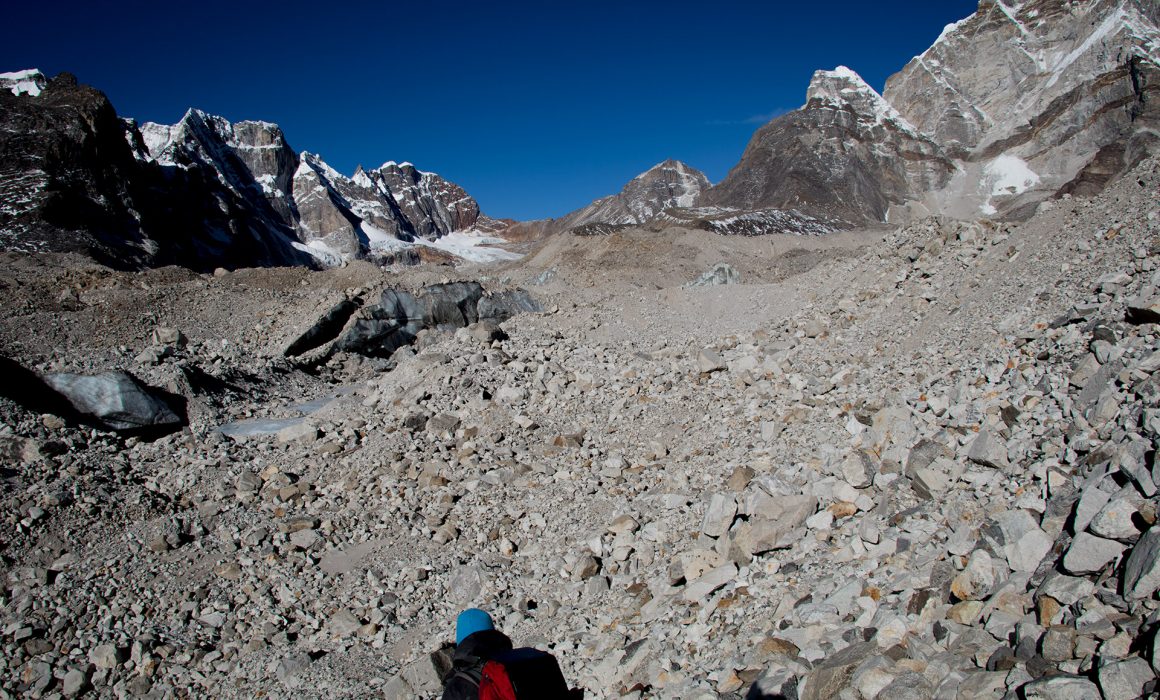 Eventually, we arrived in Gorak Shep, which is actually a frozen lakebed, and that became very obvious as soon as we arrived.
There is nothing else than a few houses and a lot of sand. We went into the first lodge we could find. In our room, we quickly switched our heavy backpacks with the lighter daypacks. We headed into the common room for some garlic soup. The owner was a really entertaining looking young man. Unfortunately, our Nepalese is no good, so smiling was the form of communication.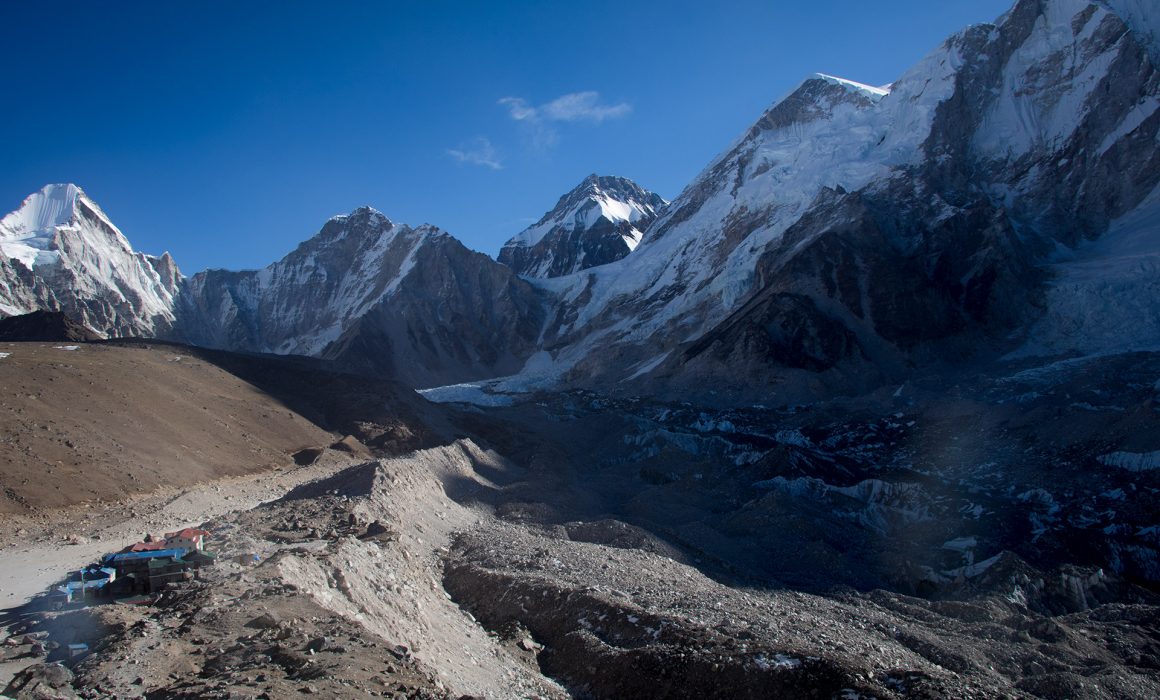 The room was more or less a wooden tent.
The famous Everest Base Camp sign was the first thing we passed. The ground was sandy, and the wind was even stronger than before. It wasn't as difficult as the Khumbu glacier crossing in the morning.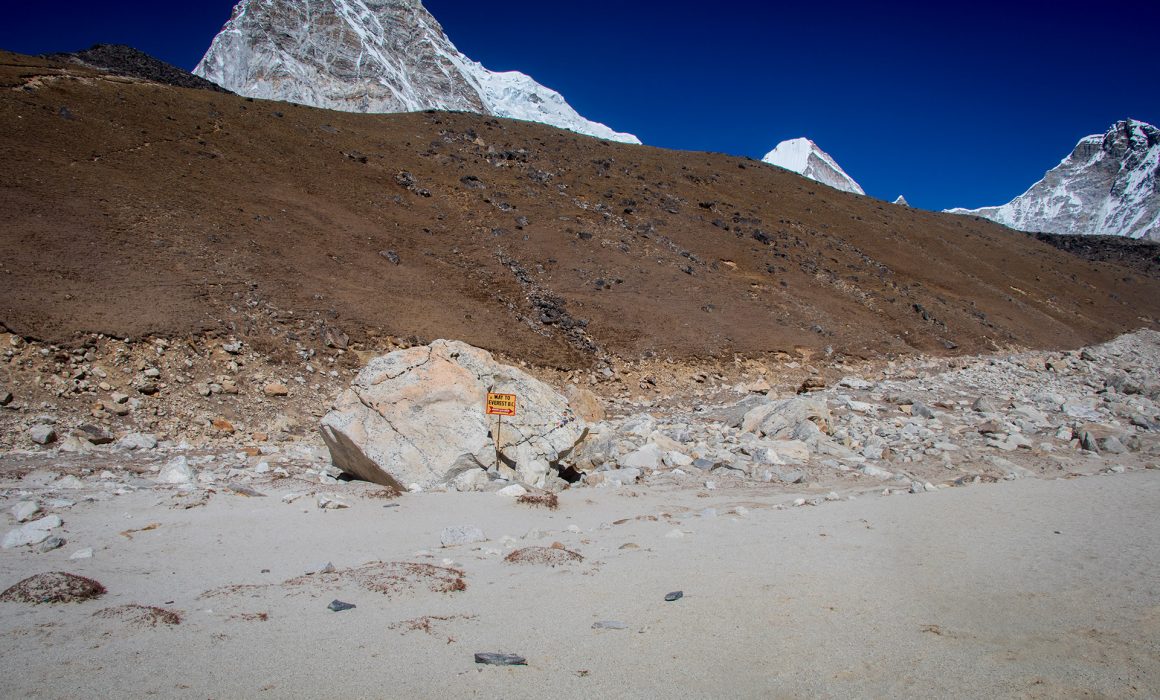 Pounding heartbeat
We usually both are fast walkers, but there, at more than 5,000 meters above sea level – with strong winds that want to blow you from the mountain ridges – we were walking uphill at the pace of a 60-year-old, yet our heart was pumping. Just resting up there your heart is beating faster than your running heartbeat at sea level. (Which seems so crazy!)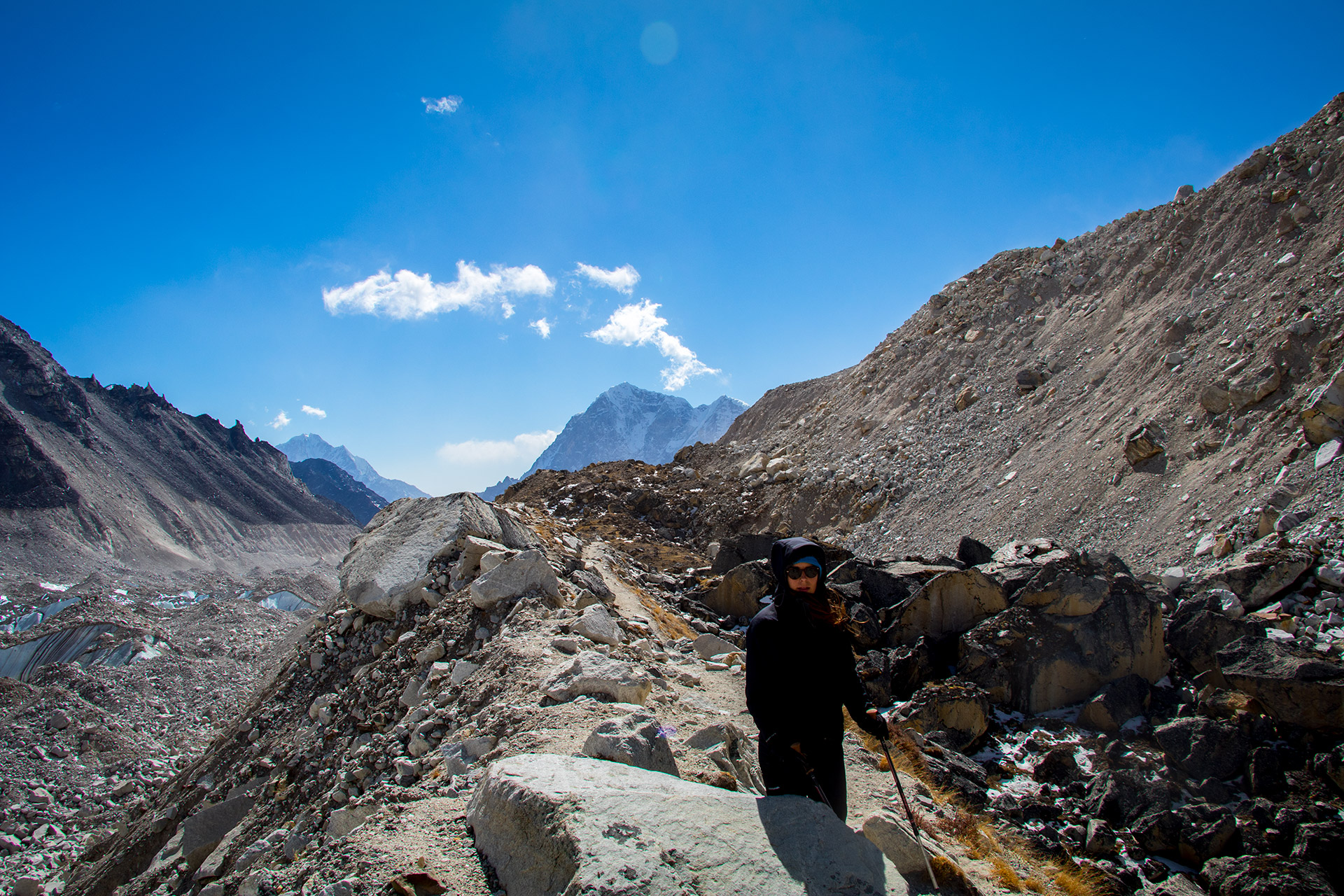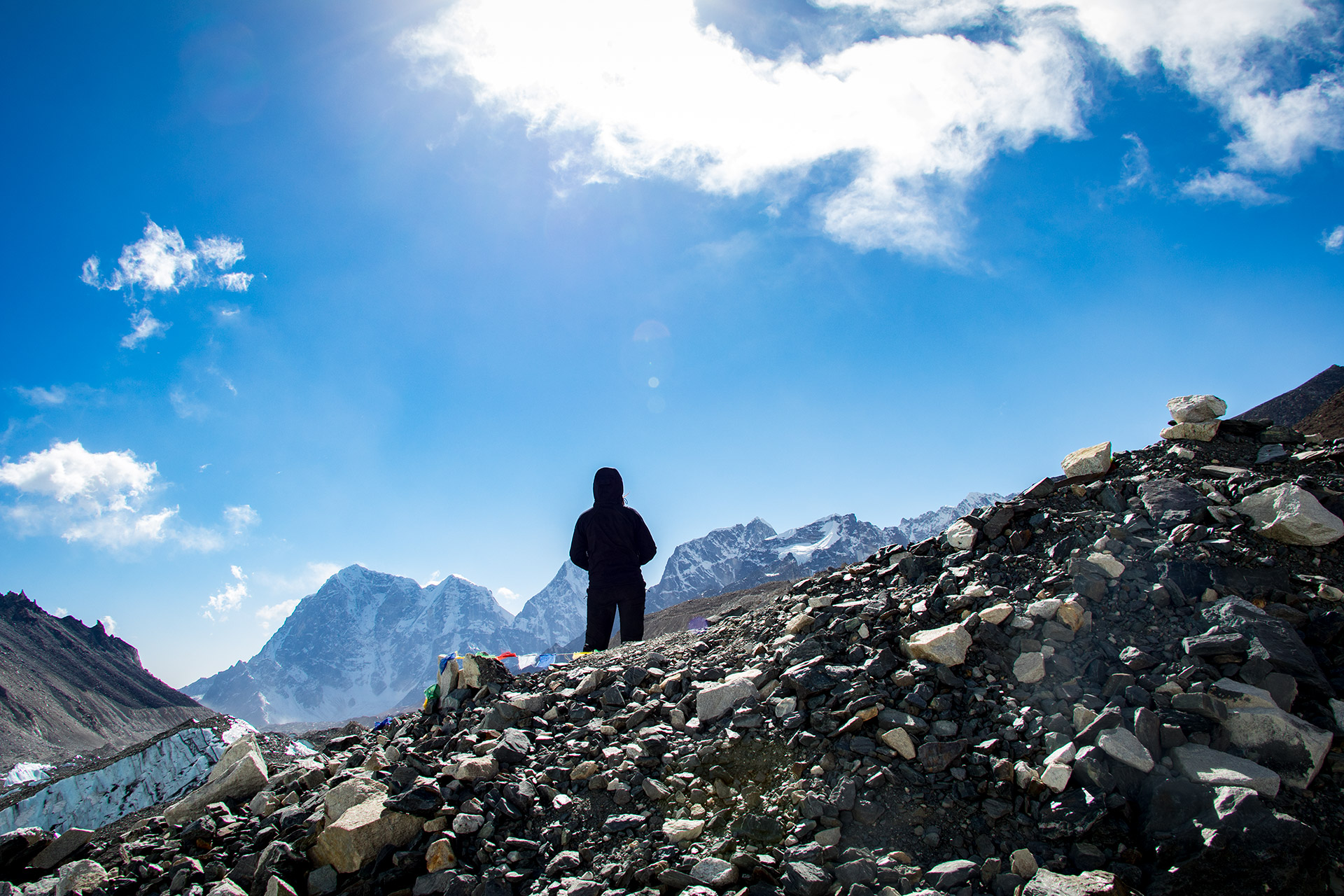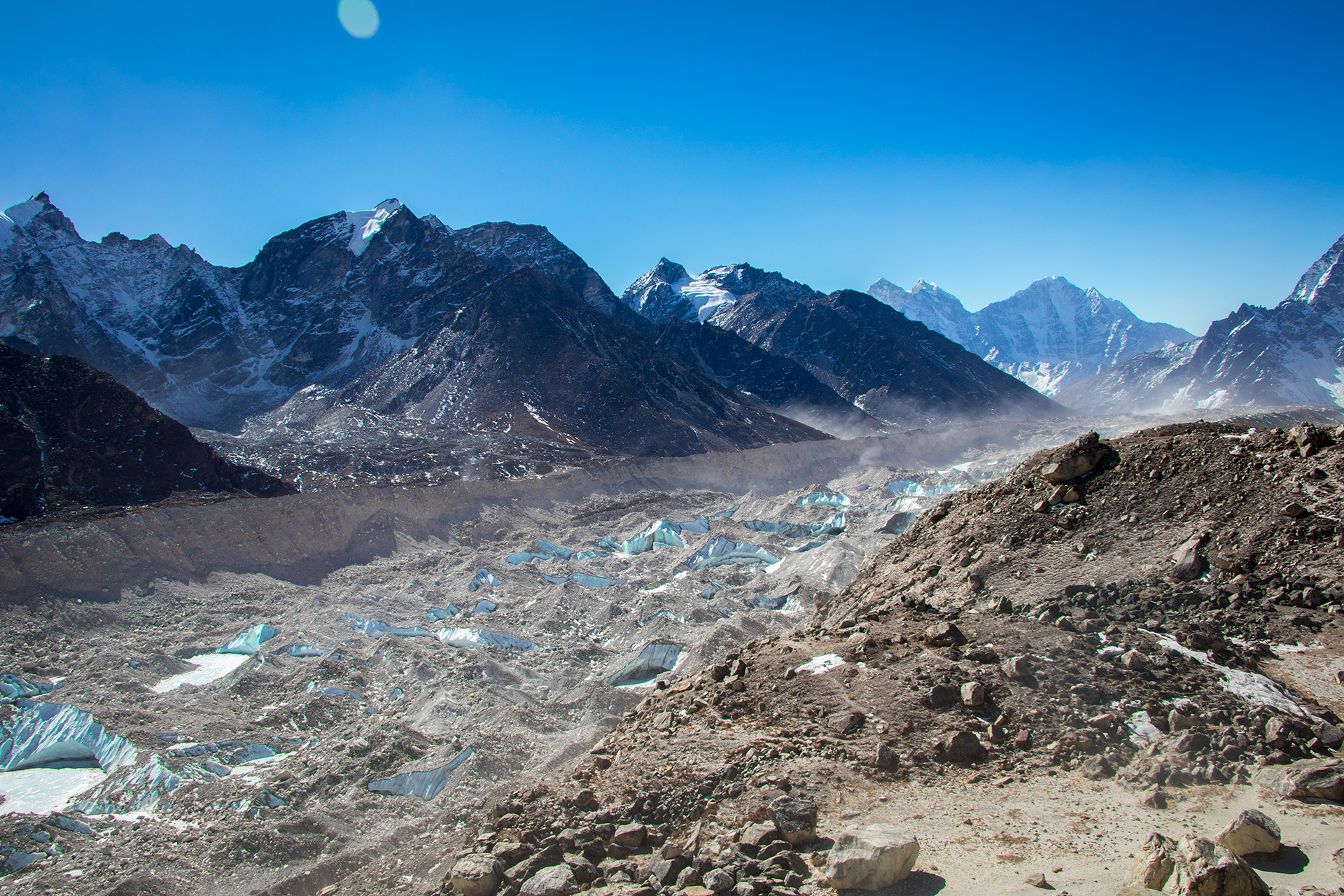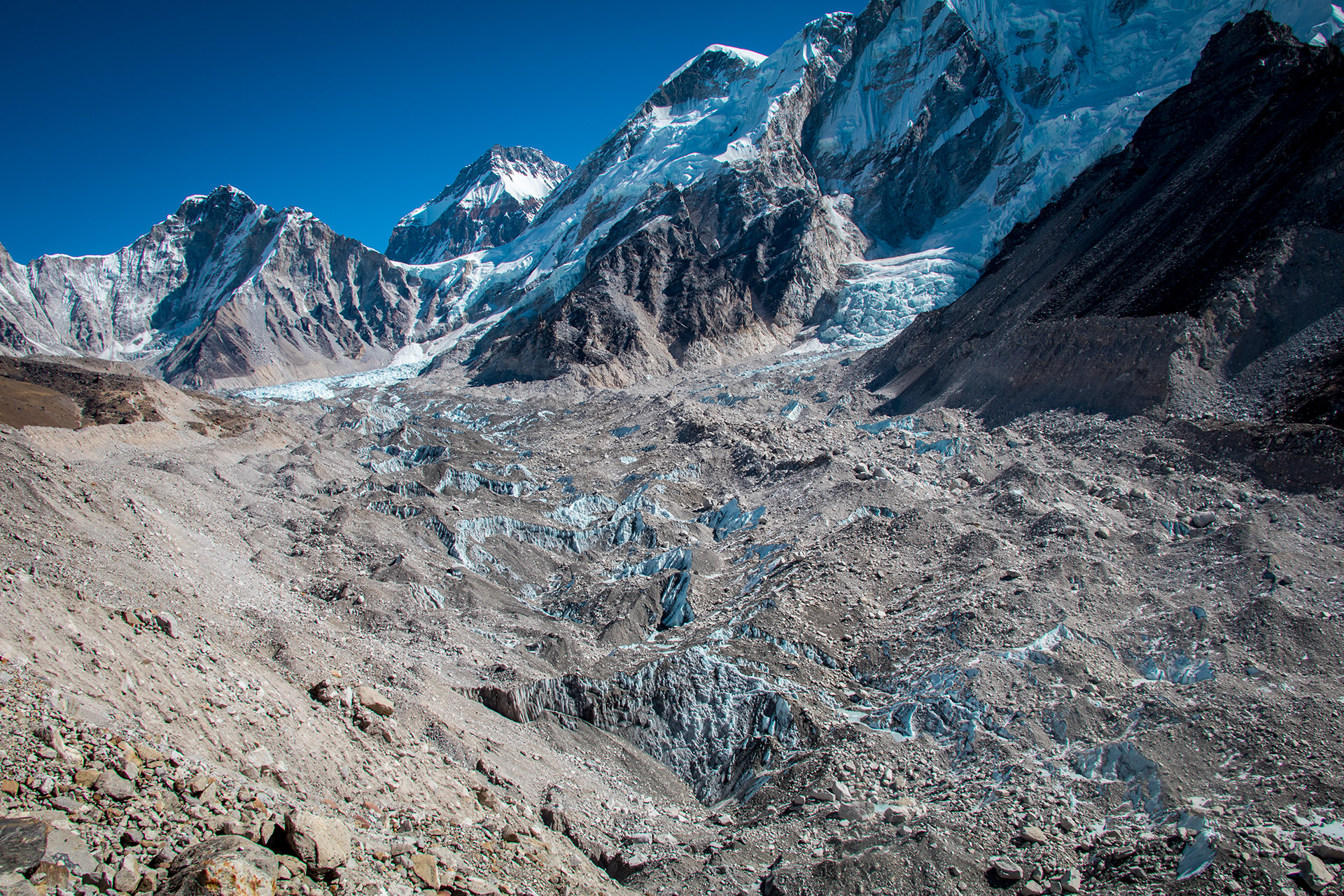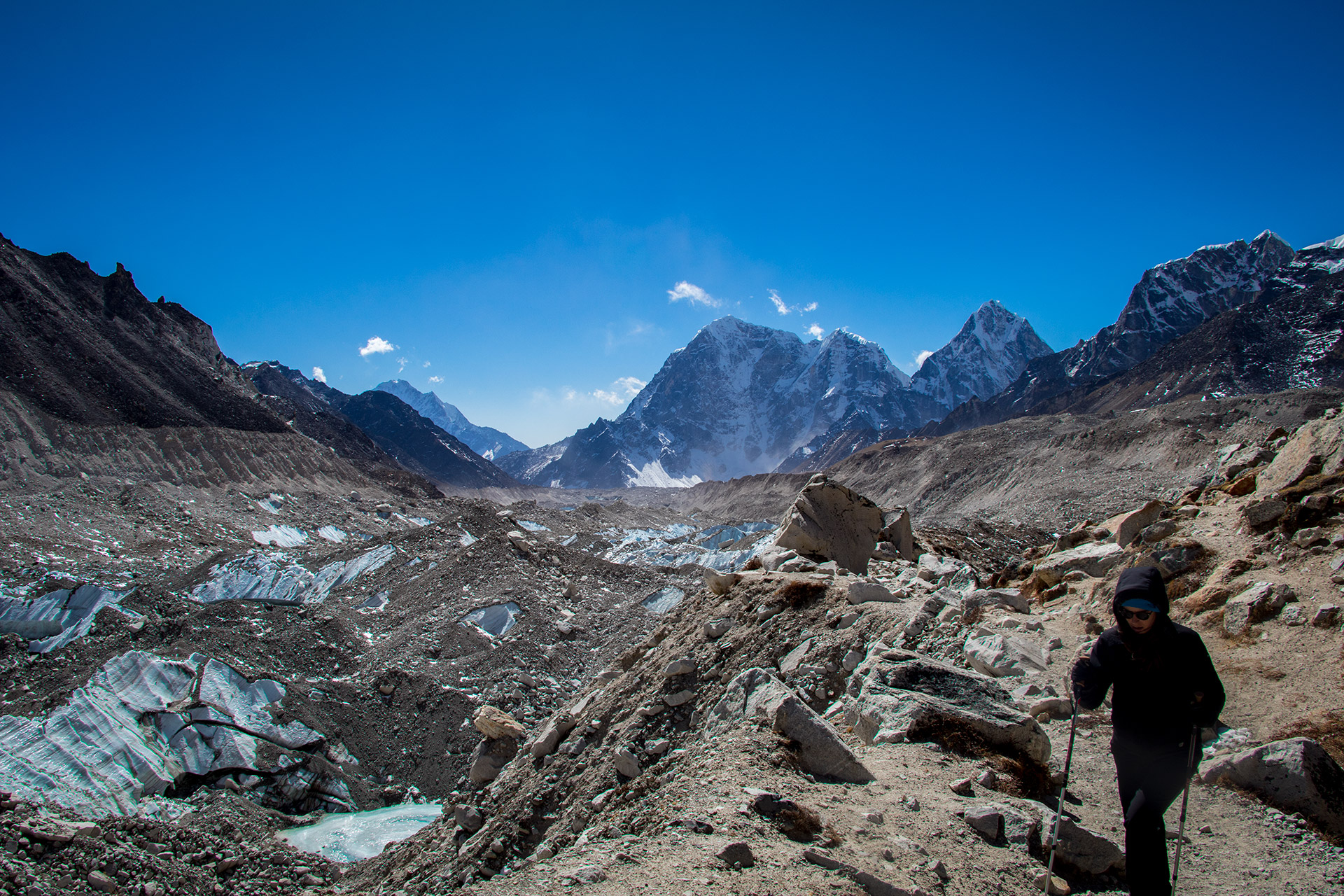 Soaking up the views of the Khumbu Glacier
It was the first time we had an unhindered view over the Khumbu Glacier, what a spectacular landscape. When I think about a glacier, the first thing that pops into my mind are crystal clear ice formation. This one was different. It was an accumulation of gravel and stone, which is pushed forward by nearly a meter each year. Between all this, the loose stones were large turquoise icy peaks which sparkled in the sun.
We stood still for a couple of minutes and tried to take in as many memories as possible. Nature really made us feel small on this trip.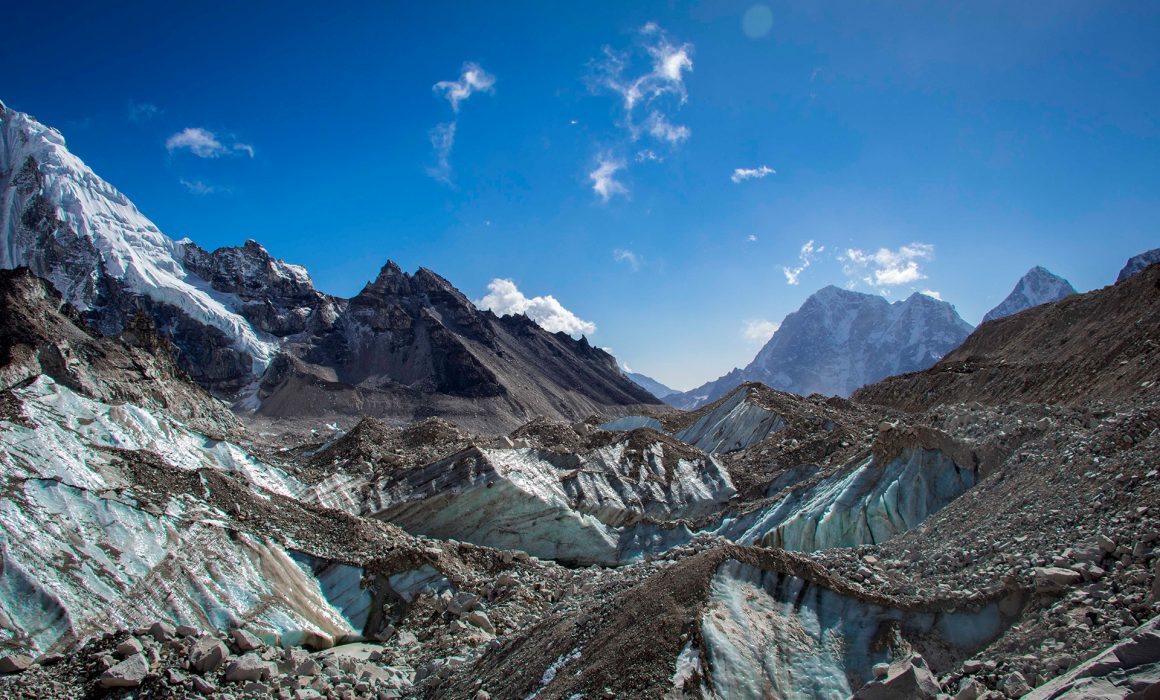 But we didn't have the time to enjoy the scenery more. It was already getting late, and we had to push forward. Although our biggest enemy wasn't the time, it was the wind. The dusk was sandblasting our faces, and it was hard to see the trek we had to follow. At least we got a free peeling.
It was terrifying.
It really was. On that barren path with the jagged, icy peaks of the Himalayas surrounding us, we were hiding behind every rock we could find.
The final descent from the mountain ridge onto the glacier was pure joy though (at least for me), I still can't believe that we did it.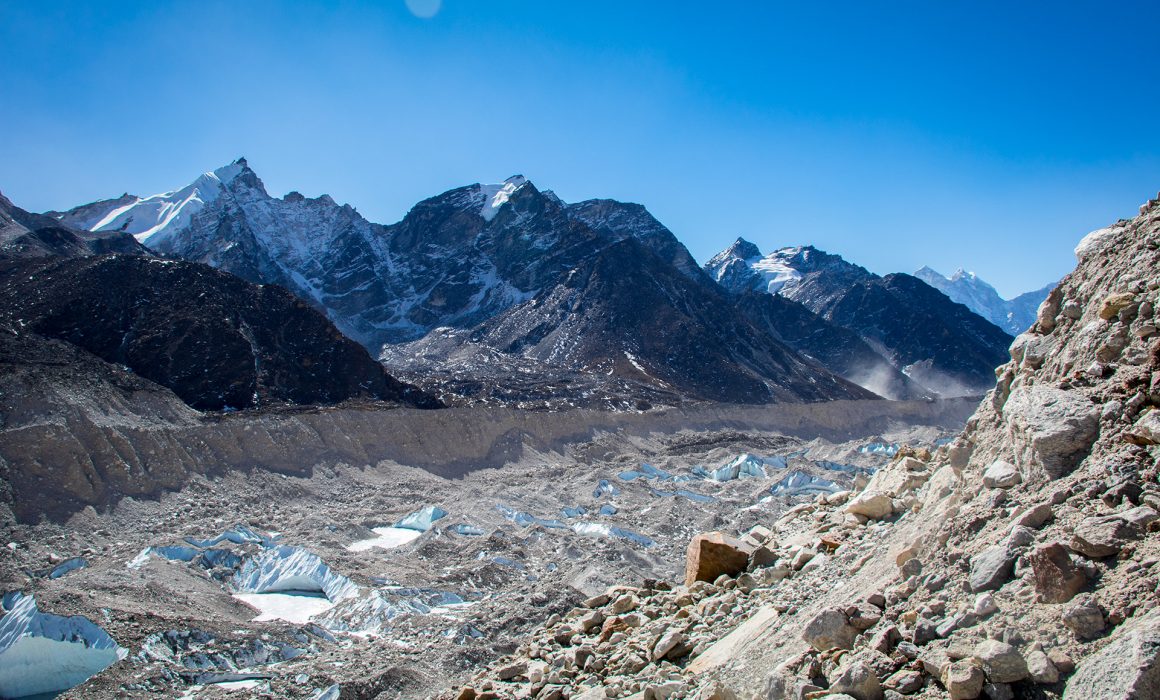 Reaching Everest Base Camp was not as expected 
Bella wasn't filled with pure joy. The hike was a huge challenge. The wind in combination with loose rocks was scary. Knowing that we would have to go back in the same conditions affected her mood a little.
There was a Spanish expedition …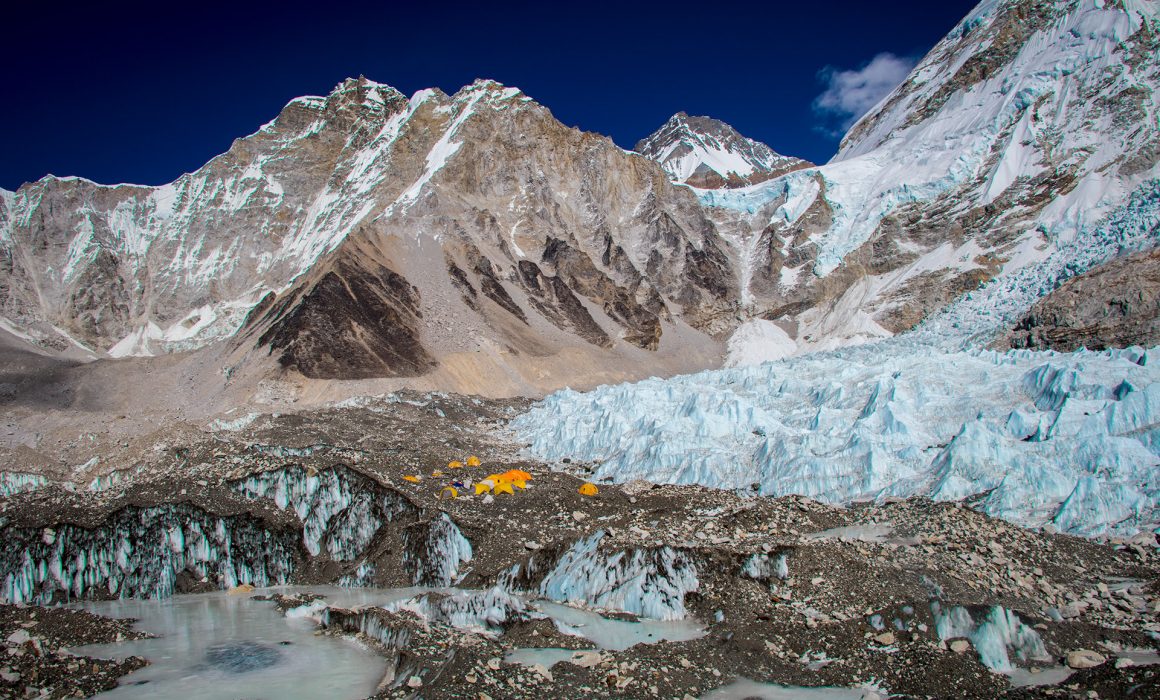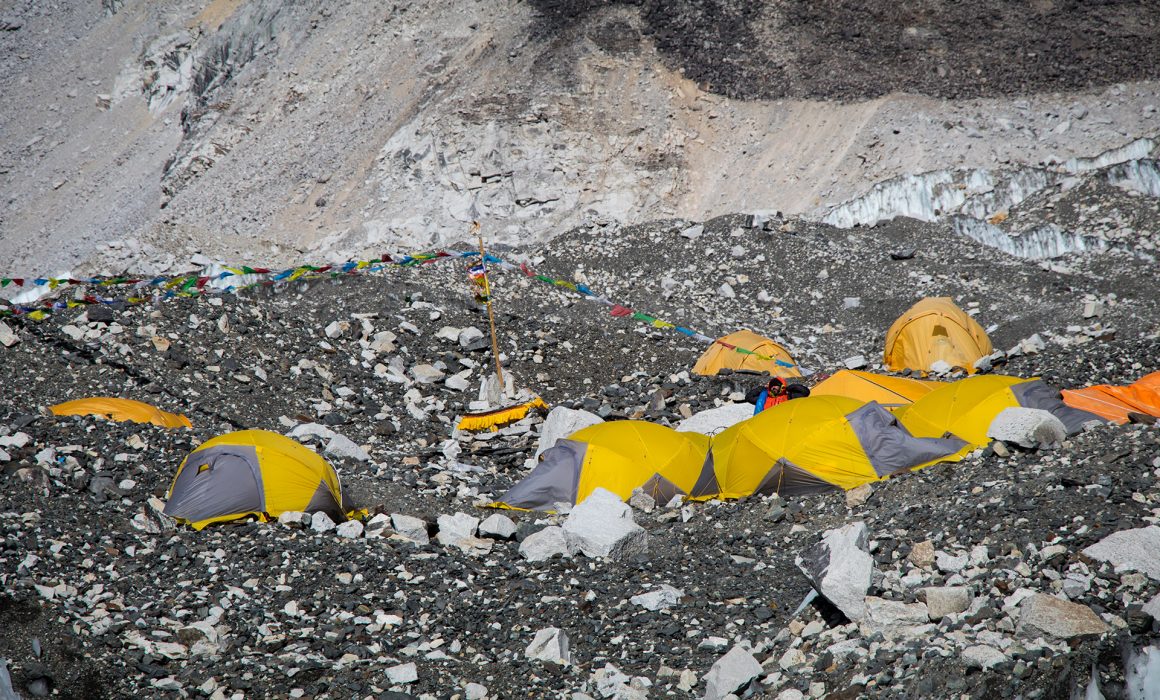 I have never felt so small in my entire life. Touching the glacier, on which so many famous mountaineers started their way up to the top of the world, was a sublime feeling.
We both are not the type of people, who will throw their hiking poles into the air and scream something like, »WE DID IT«. Maybe it was also the lack of energy or the awareness that we would still have to hike back.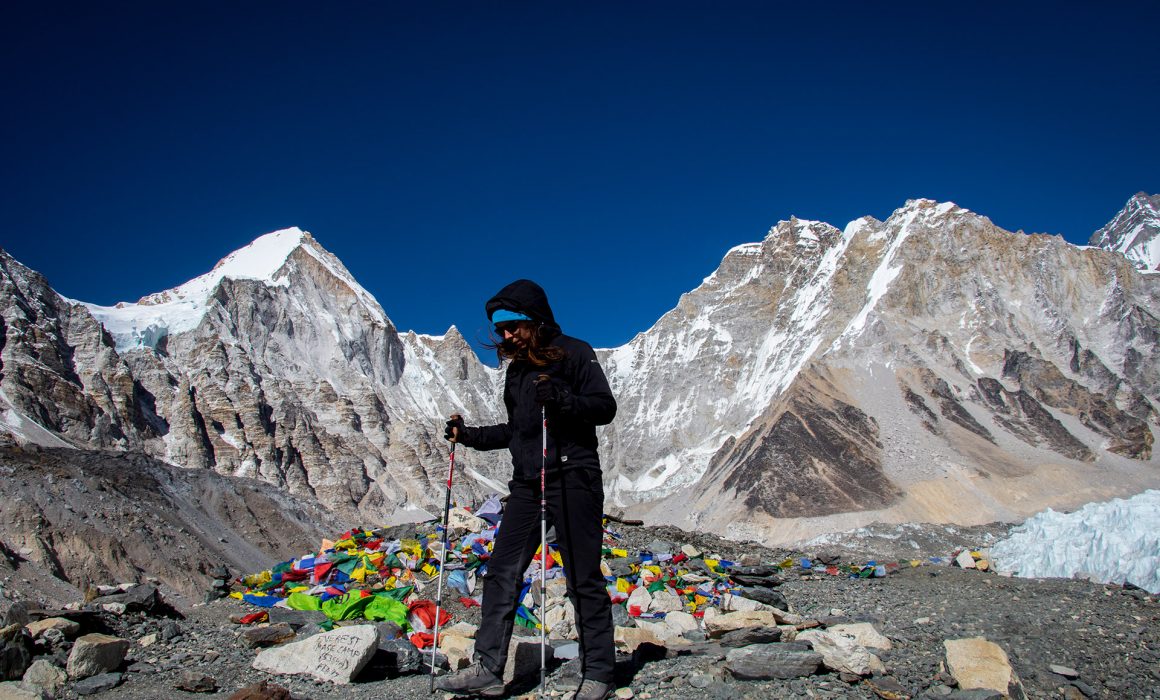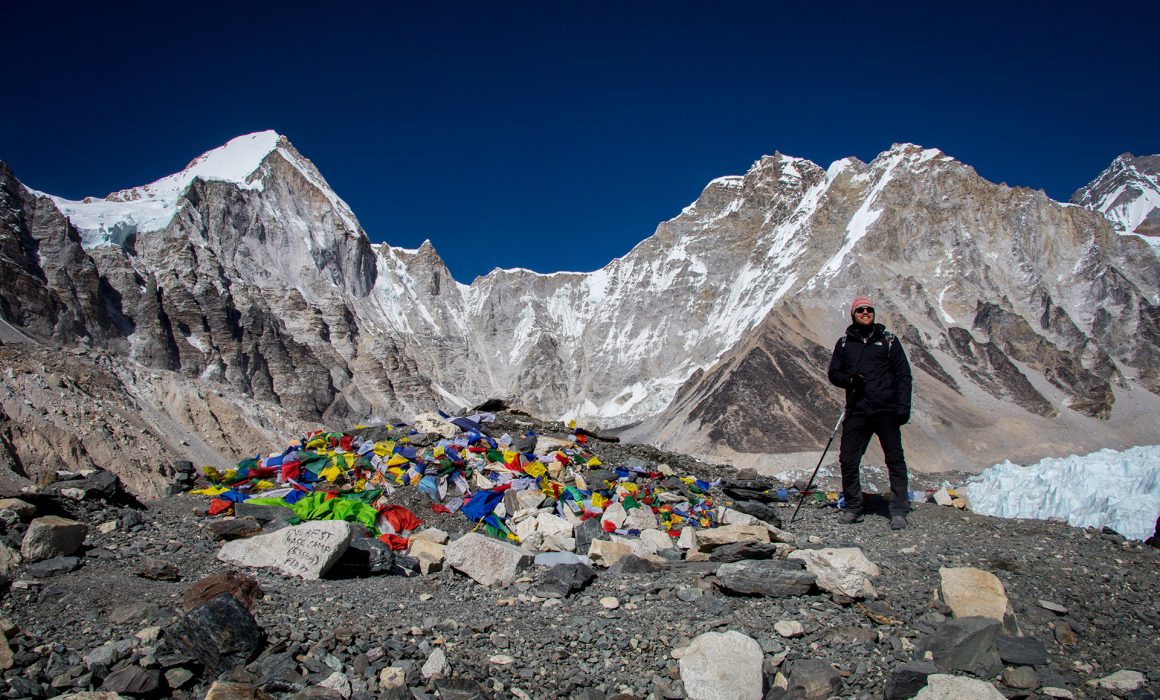 Still, it was an extraordinary feeling, to achieve what we were dreaming of for so many weeks. I still can't imagine how much energy it would need to summit Everest. I would never even consider climbing all the way up.
It took us more than 3 hours to finally reach Base Camp, and after just a few minutes we were already on our way back.
From here, it would only go down, a really great feeling. (Well, also quite a few meters up again, but they don't count).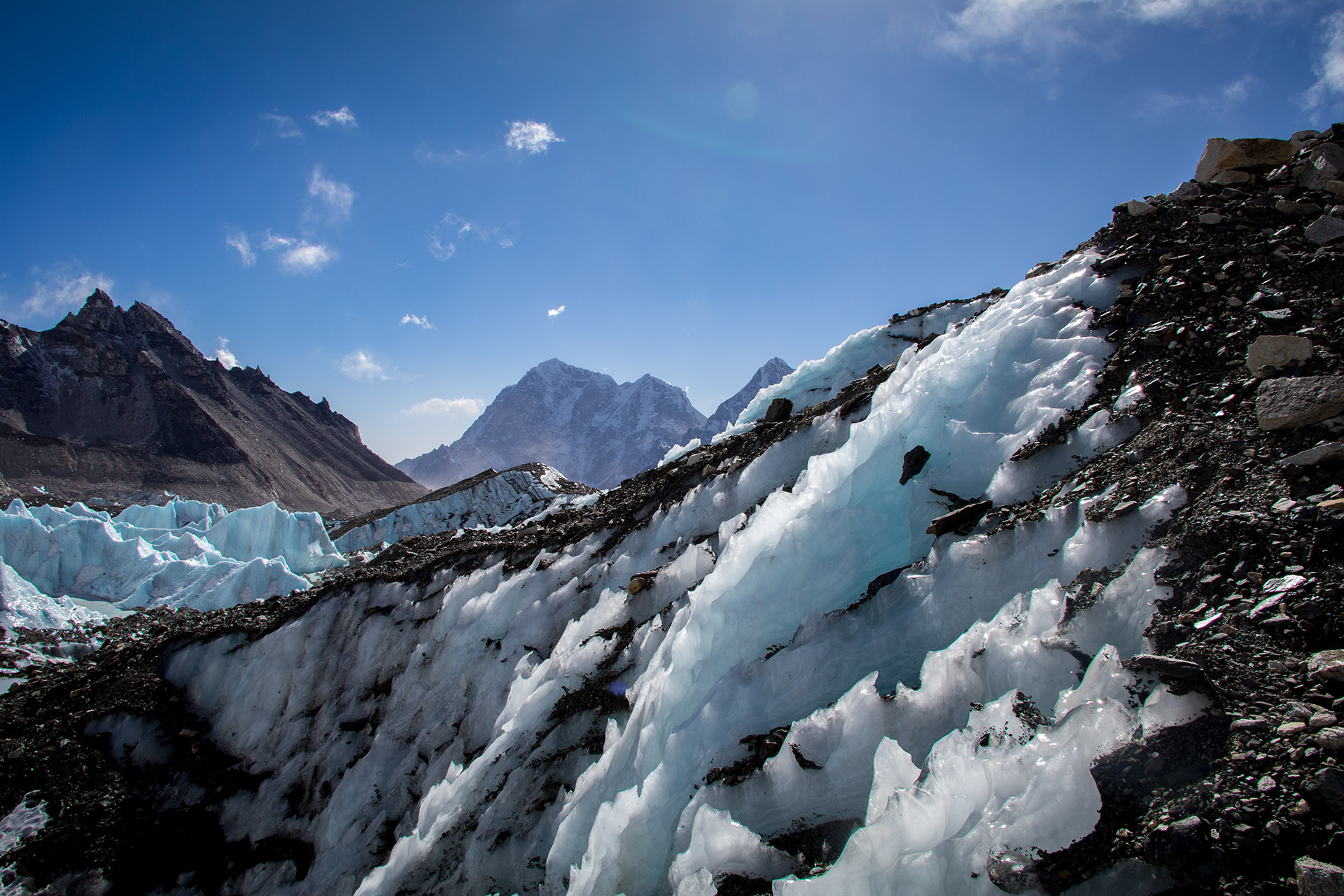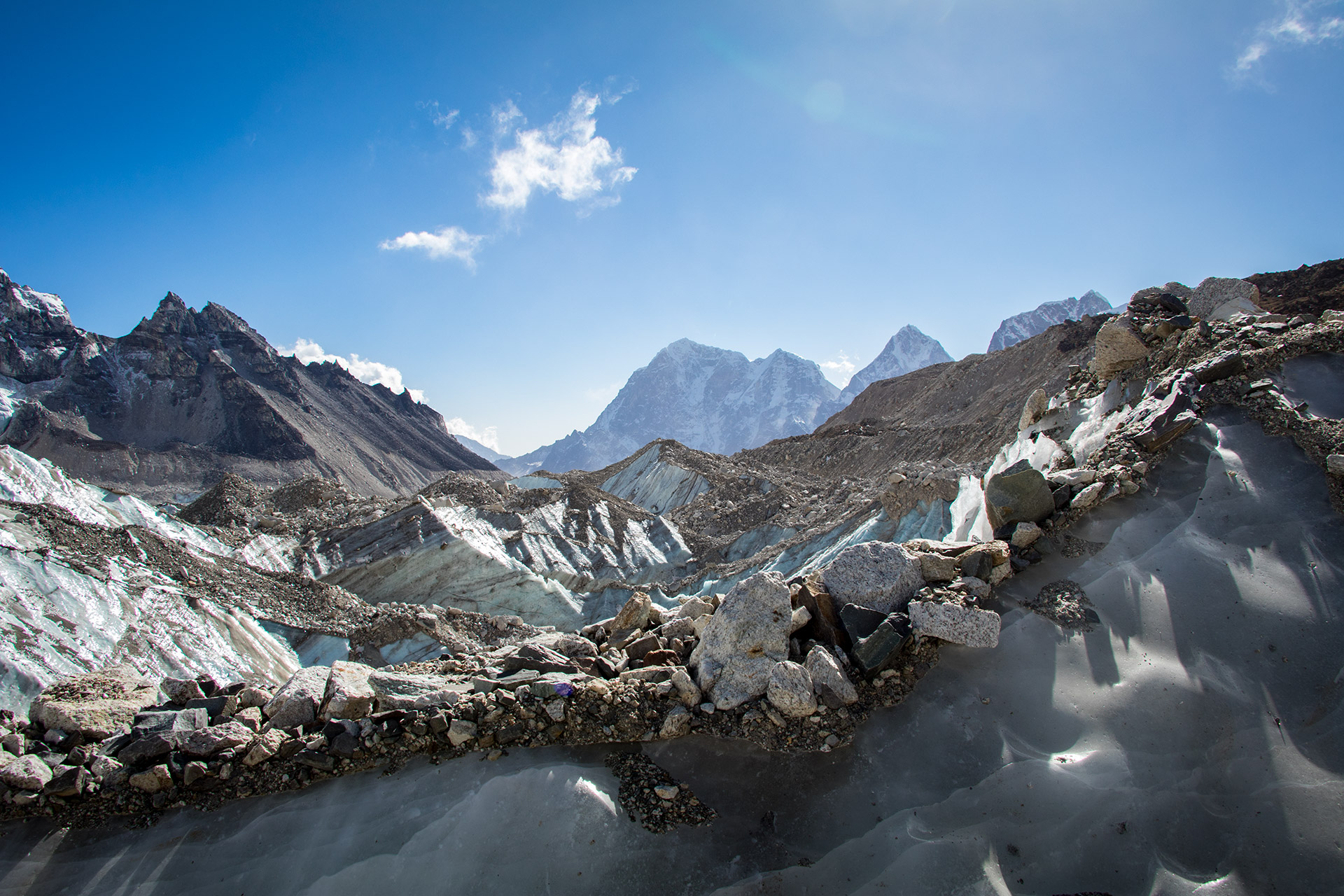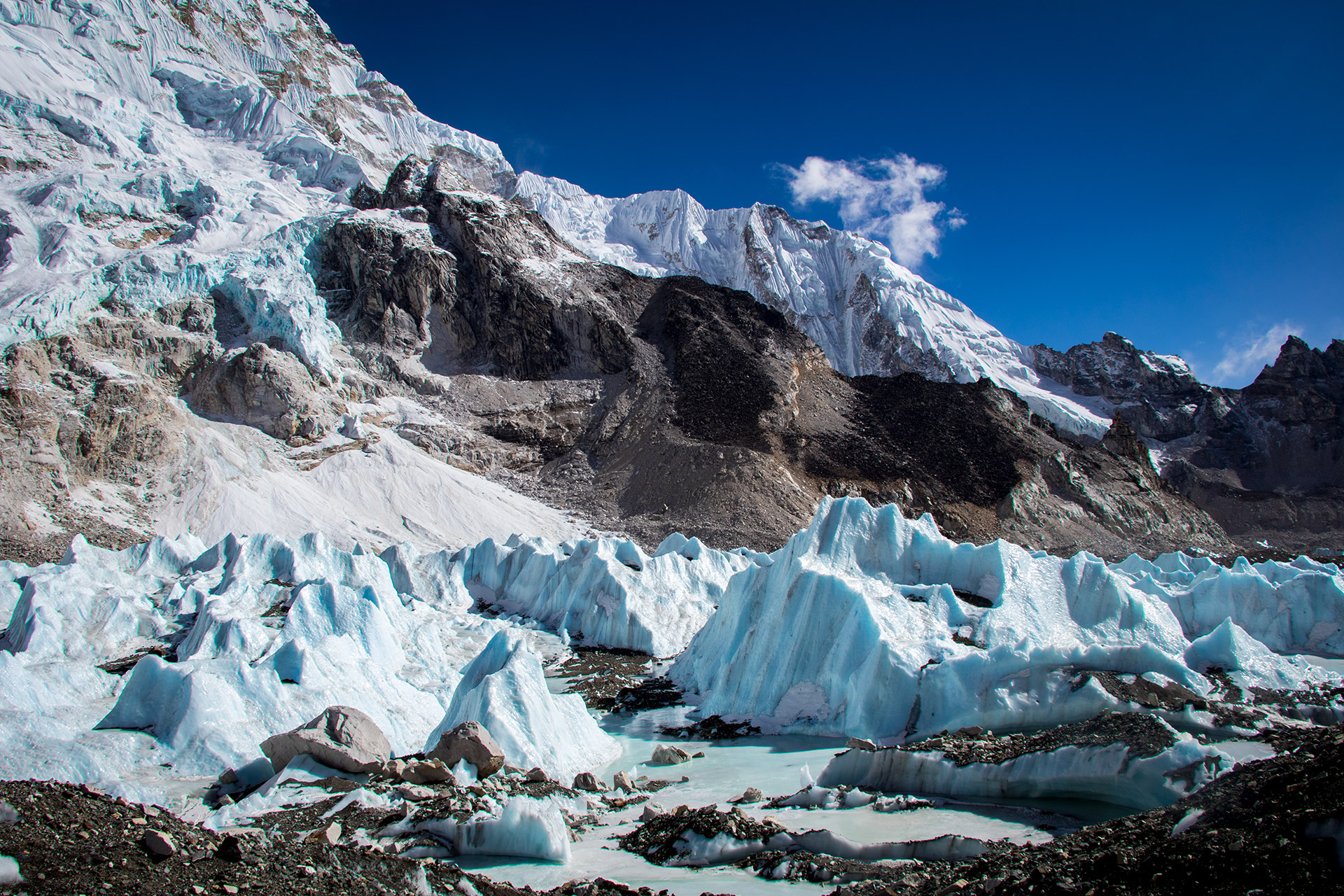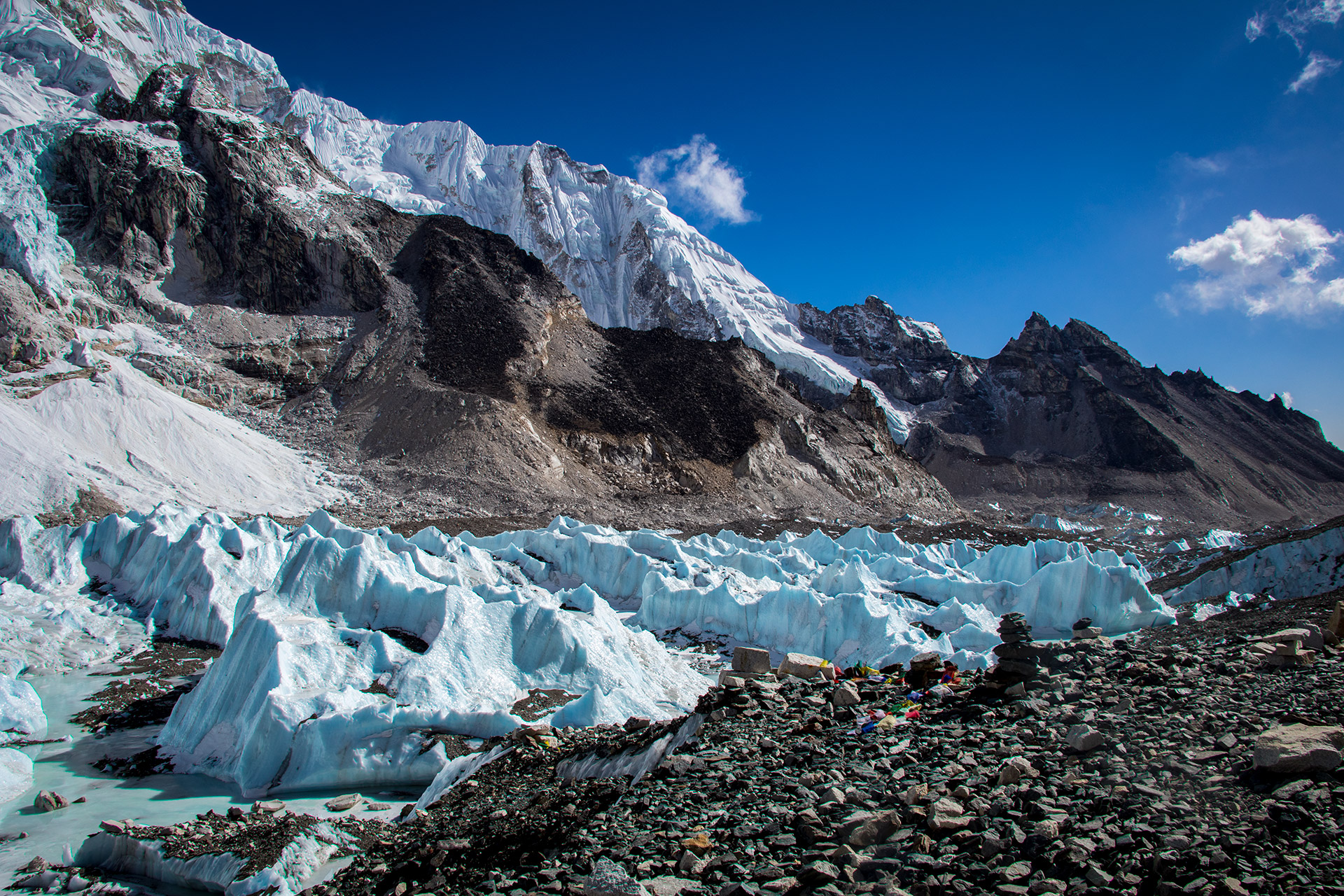 Strong winds are frightening
On the way back the wind became stronger and stronger. We later read, that the Spanish climber Alex Txikon – who attempted a winter summit with no oxygen at the time – had to be rescued from Everest because of violent winds the very same day. His goal was to set the world record, becoming the first foreigner to climb Mt Everest without supplemental oxygen in the winter climbing season.
For us the real heroes of the mountain are not the guys who will reach the summit, it's the people who support the climbers on their way up. They deserve way more credit than they are getting.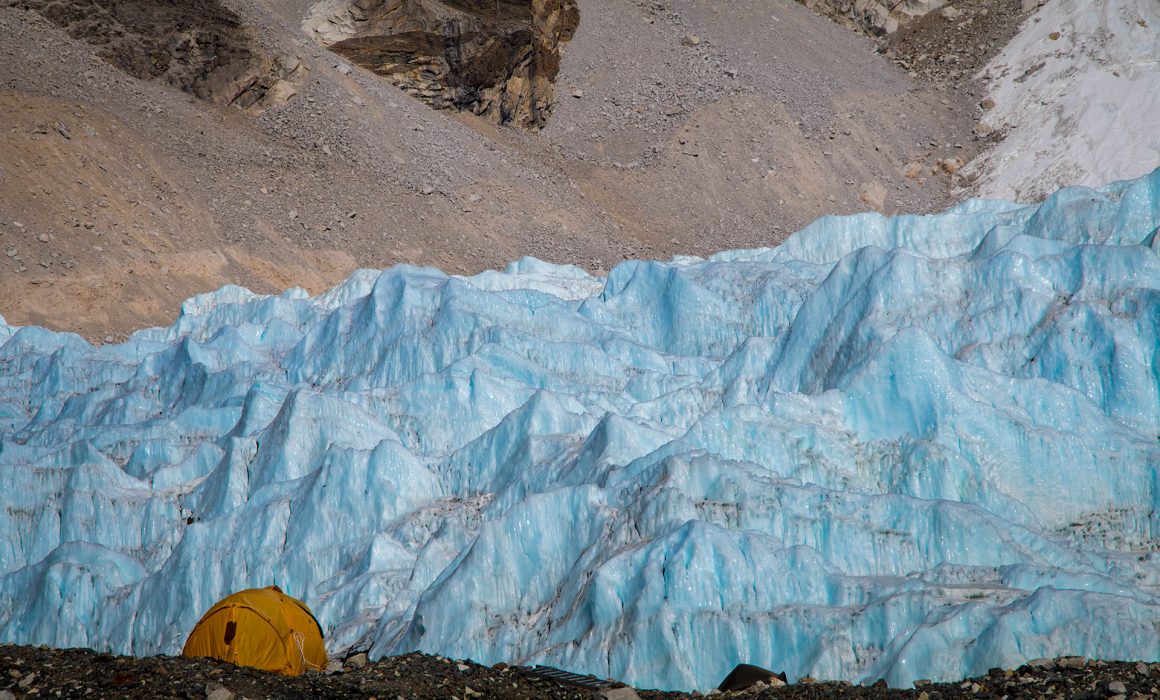 It took 2 hours until we reached the dried riverbed of Gorak Shep again. The gusts raised so much dust that I couldn't see Bella anymore, and she was only standing a meter away from me. It was a clear day, but it seemed that we had small solar eclipses and the sun disappeared every now and then.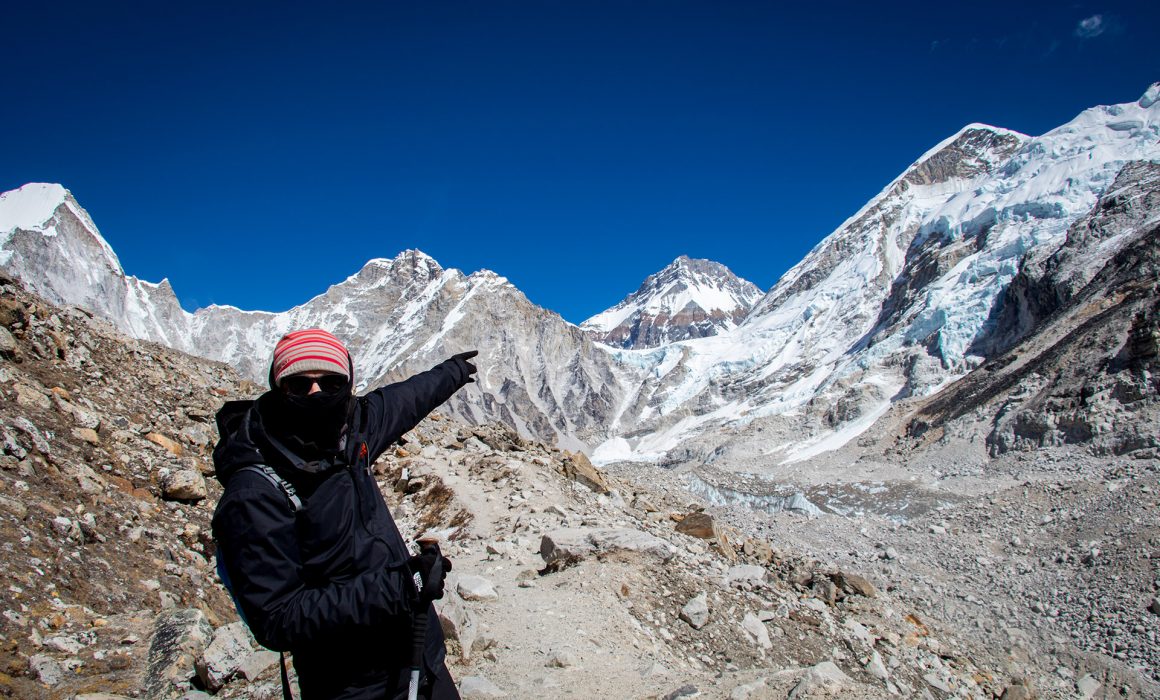 We made it back to Gorak Shep
When we finally reached the lodge, we skipped dinner and just bought a bag of Pringles and our first Coke on the trek – the best Coke we both have ever had in our entire lives. Pure happiness. We went to bed, completely covered in dust and sand – super happy, to be alive.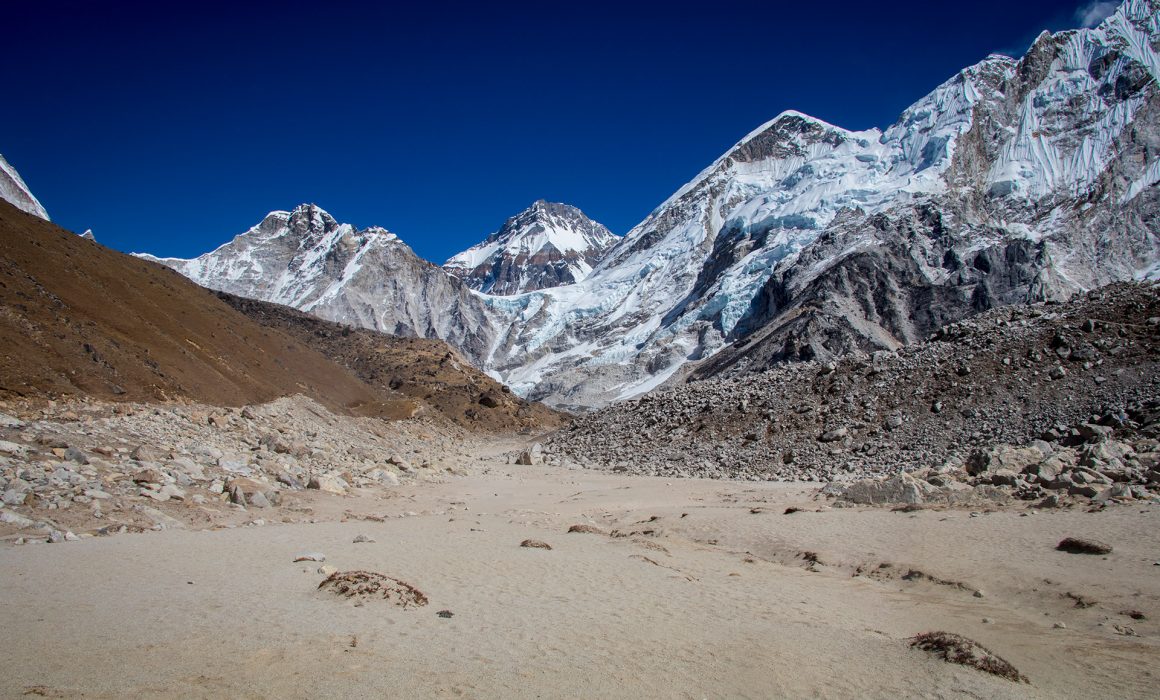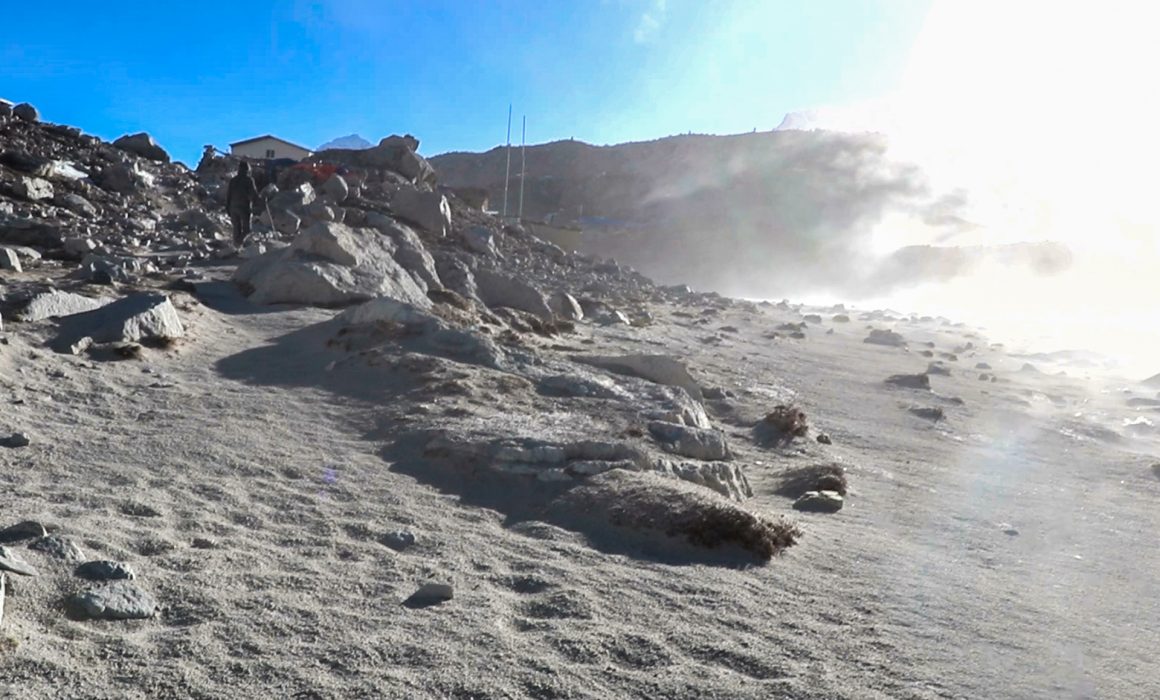 Video Impressions of the Everest Base Camp Trek:
Video Impressions of the Everest Base Camp Trek: